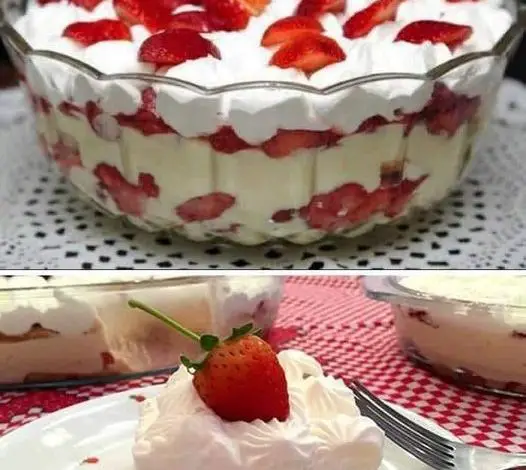 Cream: In a pan, place the milk, condensed milk, the combed yolks, vanilla and cornstarch. Cook over low heat, stirring constantly until creamy. Then turn off the heat and add the cream. In a bowl put some milk Cut the strawberries into cubes. Leave a couple of whole ones for decoration.
Dip the cookies one by one in the milk quickly; put a layer in the cup; then a layer of cream, a layer of strawberry. Do this procedure up to the rim of the cup. Put it in the fridge for 1 hour.
Finishing: when removing the glass from the fridge, cover the surface with the whipped cream and decorate with the strawberries.
Ingredients

– 1 packet of bolacha cornstarch or bolacha champagne
– 1 can of condensed milk
– 1 box of milk cream
– 1 can of common milk
– 2 pierced gems
– 1 colher of wheat farinha or maisena soup
– 2 xícaras of chá de morango
– 1 colher de chá de baunilha – Morango and chantilly to decorate preparation mode
– In a panela, place the condensed milk, or milk (reserve a little to dissolve the wheat), the slightly beaten peneirated gems, the baunilha and the mixed farinha in the reserved milk
– Mix until it thickens (it thickens in 15 minutes, but I can't stop mixing)
– Disconnect the fire and join the cream of milk with the soro
– If necessary, whisk or non-liquidifying cream to remove stains that may form lumps in the cream
– In a refratário, place in the following order a layer of bolacha (pass the bolachas do not leite with sugar quickly), a layer of chopped morangos, metade do creme
– Repeat the layers finishing as creme
– Decorate to your liking, with morangos and chantilly