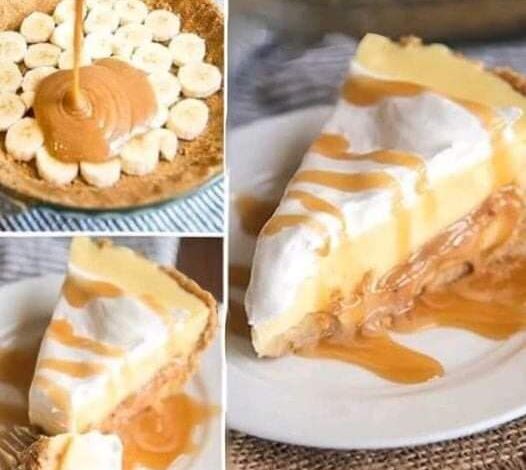 𝗜𝗻𝗴𝗿𝗲𝗱𝗶𝗲𝗻𝘁𝘀:
𝐅𝐨𝐫 𝐭𝐡𝐞 𝐆𝐫𝐚𝐡𝐚𝐦 𝐂𝐫𝐚𝐜𝐤𝐞𝐫 𝐂𝐫𝐮𝐬𝐭:
• 12 graham cracker sheets
• ¼ cup sugar
• ¼ cup butter, melted
𝐅𝐨𝐫 𝐭𝐡𝐞 𝐏𝐢𝐞 𝐅𝐢𝐥𝐥𝐢𝐧𝐠:
• 2 bananas
• 1 11oz package caramels, unwrapped
• ¼ cup heavy cream
• 1 3.5 oz instant vanilla pudding mix
• 1 3.5 oz instant banana cream pudding mix
• 2½ cups milk
• 8 oz cool whip
𝐈𝐧𝐬𝐭𝐫𝐮𝐜𝐭𝐢𝐨𝐧𝐬:
1. Crush your graham crackers into a fine crumb. (It should make about 1½ cups).
2. Mix together your sugar with your graham cracker crumb in a medium sized bowl.
3. Pour your melted butter over the top of your crumb and mix it all together.
4. Pour your crust mixture into the bottom of a 9 inch pie crust pan and press down on the bottom and the edges.
5. Cut your bananas into slices and lay them over your graham cracker crust.
6. Combine your caramels and heavy cream in a small sauce pan. Heat over medium until caramels are melted and smooth, stirring throughout.
7. Pour caramel over banana slices (reserve about ¼ cup if desired for later).
8. Pour your pudding mixes into a large bowl and pour your milk over it and stir together. Add ½ cup of cool whip to the pudding mixture and mix well.
9. Pour pudding mixture over caramel and smooth top. Place in fridge to set for about 3 hours.
10. Top with remaining cool whip and additional bananas before serving.