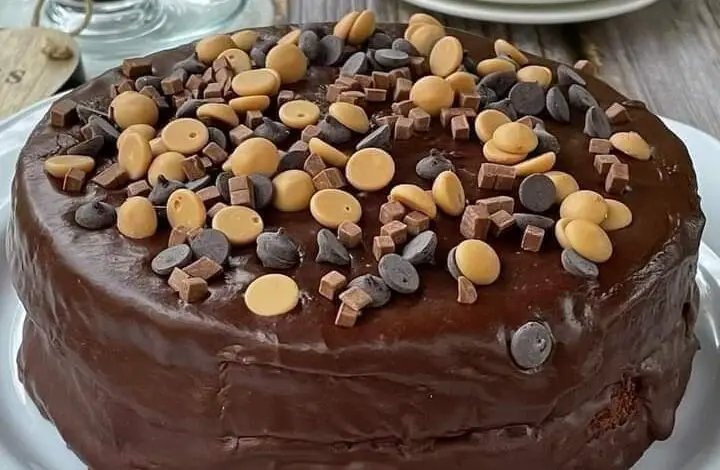 𝐈𝐍𝐆𝐑𝐄𝐃𝐈𝐄𝐍𝐓𝐒:
• 125g dark chocolate chopped
• 300 ml milk
• 125g butter
• 125g light brown sugar
• 250g self-raising flour sifted
• 2 eggs separated
• 1/2 tsp baking powder
• sprinkle chocolate flakes or chips or crushed nuts to decorate
𝐂𝐡𝐨𝐜𝐨𝐥𝐚𝐭𝐞 𝐅𝐮𝐝𝐠𝐞 𝐈𝐜𝐢𝐧𝐠

• 50g butter
• 3 tbsp milk
• 250g icing sugar sifted
• 2 tbsp cocoa powder sifted
𝑴𝑬𝑻𝑯𝑶𝑫:
1. Preheat the oven to 160 Fan.
2. Place the chocolate and 4 tablespoons of milk in a saucepan and heat gently, stirring till melted. Stir in the reminding milk and set aside when melted.
3. Beat the butter and sugar till light and fluffy and add the egg yolk one at a time till combined.
4. Add the flour and baking powder to the creamed mixture with three quarters of the chocolate milk and beat until smooth. Stir in the remaining chocolate milk.
5. Whisk the egg whites till stiff and fold 1 tablespoon into the mixture to lighten and then carefully fold in the rest.
6. Divide into the two prepared tins and bake for approximately 35-38 minutes till a skewer test comes out clean or the cakes spring back when lightly pressed.
7. Leave to rest in the tins on a rack for a few minutes and then turn out to cool completely on a wire rack.
8. For the icing place the butter and milk in a small pan and heat gently until melted. Add the icing sugar and cocoa powder and heat until glossy stirring all the time. To cool for the filling stir often to prevent a skin forming.
9. Use one third of the cooled icing to sandwich the cakes together. Reheat the remaining icing gently to thin it slightly and the pour over the cake to cover completely.
10. Decorate with either flaked chocolate or as I did with a mixture of fudge and chocolate sprinkles.
11. Eat and enjoy!