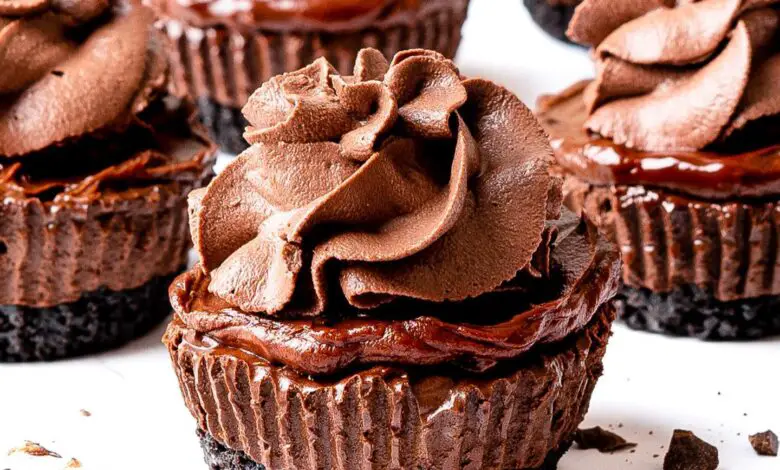 Ingredients
100g cream cheese
50g caster sugar
20g cocoa
60ml double cream
60g dark chocolate
Oreo base
7 oreo biscuits
1tbsp butter
Chocolate ganache

120ml double cream
120g dark chocolate
3-4tbsp golden syrup 
Chocolate whipped cream

240ml double cream
20g cocoa
4tbsp icing sugar
1tbsp vanilla extract
1.Crush the Oreo cookies in a zip lock bag, melt the butter in the microwave.
2.Mix the Oreo crumbs & melted butter in a bowl. Pop 5 cupcake uses into a cupcake pan, push the Oreo crumbs into the bottoms. Set aside.

3.Add the cream cheese, sugar, half the sifted cocoa to a bowl. Mix until combined and creamy.
4.Add the remaining cocoa & cream. Mix until combined. Melt 60g chocolate, add to the cream cheese mix. Scoop on top of the Oreo crumb base. Pop in the freezer for 1h 20mins or 5 hours in the fridge.

5.Chocolate ganache: melt the chocolate & cream in the microwave 20 secs at a time. Once cool, spread 1 tbsp on top of each cheesecake.

6.Chocolate whipped cream:Add all the ingredients in a bowl, only add half the cocoa. Mix until combined. Whisk in the remaining cocoa until combined. Add to a piping bag, pipe on top of the cheesecakes. Enjoy!