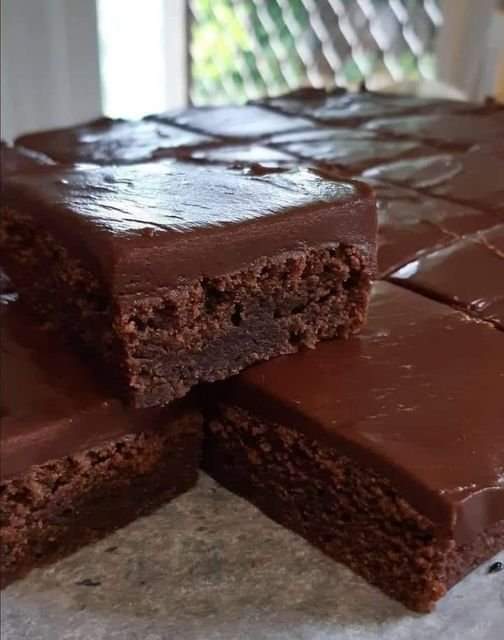 Ingrédients :

1 cup water
1 cup butter
3 Tablespoons unsweetened cocoa powder
2 cups all-purpose flour
2 cups granulated sugar
1 teaspoon baking soda
1/2 teaspoon salt
1/2 cup sour cream
2 large eggs
1 teaspoon vanilla extract
For the Frosting
6 Tablespoons milk
3 Tablespoons unsweetened cocoa powder
1/2 cup butter
3 3/4 cups powdered sugar

Instructions :

Preheat oven to 350 degrees F and grease a 18×13" pan.
Add water butter cocoa powder to a medium saucepan over medium heat. Bring mixture to a boil.
Meanwhile, in a separate bowl mix together the flour, sugar baking soda and salt.
In another small bowl mix together the sour cream, eggs and vanilla.
Add sour cream/egg mixture to the flour mixture and mix until combined.
Once the chocolate mixture in the saucepan in boiling, remove it from heat and pour it into the batter. Mix until combined and no lumps remain.

Pour mixture into prepared pan and smooth with a spatula to make sure it is dispersed in an even layer.
Bake in preheated oven for 15-20 minutes or until set (mine is usually done around 15 minutes).
When the cake is about half-way through cooking, prepare the frosting.
For the Chocolate Sheet Cake Frosting
Add milk, cocoa and butter to a saucepan. Bring mixture to a boil.

Once boiling, remove it from the heat and stir in powdered sugar. I like to beat the mixture with my hand-held mixer to get rid of any lumps.
Pour hot icing over hot cake. Use a spatula to spread it evenly over the cake. Allow frosting to set for about 10 minutes before eating.