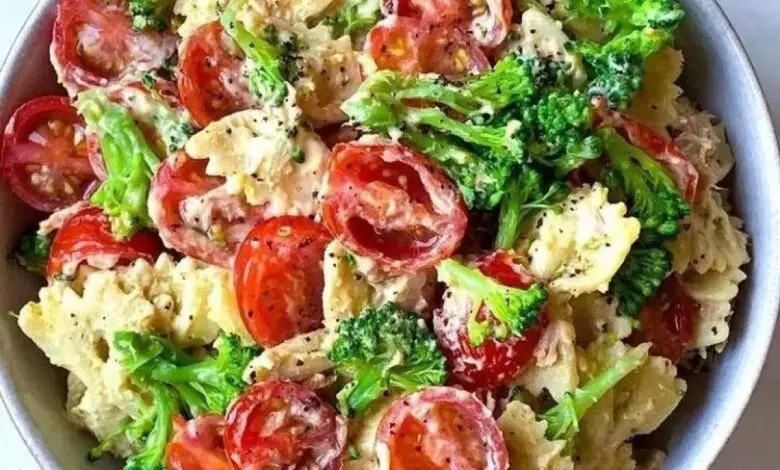 Ingredients
* 1 bag of gluten-free pasta of your choice. I used bow tie pasta, also known as "farfalle" but you can use any shape you like⁠
* 1 pint of cherry or grape tomatoes, sliced in half⁠
* 2 small garlic cloves, finely minced⁠
* 2 tbsp of extra virgin olive oil or avocado oil for the pasta water⁠
* 2 tbsp of extra virgin olive oil or avocado oil to roast the broccoli⁠
* pinch of sea salt⁠
* pinch of ground black pepper⁠
* 1 cup of roasted, pre-steamed broccoli⁠
* 2 cans of lemon tuna (I always buy the low-mercury varieties)⁠
* red pepper flakes (optional)⁠
* a sprinkle of sumac (optional)⁠
Hummus Picante Dressing⁠
* 8 tbsp of hummus for every 4 bowls of the pasta (2 tbsp per bowl)⁠
* 1 tbsp of Tabasco or Frank's Red Hot Sauce⁠
* A dash of chili olive oil (optional)⁠
⁠
Instructions⁠
1. Follow cooking instructions on the pasta of your choice. I like to add sea salt, pepper, and 2 tablespoons of olive oil to the water I cook the pasta in.
Gluten-Free pasta (especially if it's corn or brown rice-based) can get pretty sticky, so the extra virgin olive oil keeps it from clumping together as it cooks.⁠

⁠2. While the pasta boils, let's roast the broccoli with a dash of olive oil, sea salt, and pepper! I cut it into individual florets and place them in a baking tray, at 400F for 20-25 mins and toss them halfway through. If you'd like, you can roast the tomatoes there, too.⁠
⁠
3. Drain the pasta and transfer it to a large bowl or platter. Allow it to cool down. I always add the hummus and Picante dressing in first and toss well to coat evenly.
Then I mix in the veggies and tuna. I toss again and refrigerate prior to serving. It's always better to shake/toss than to stir with a spoon.