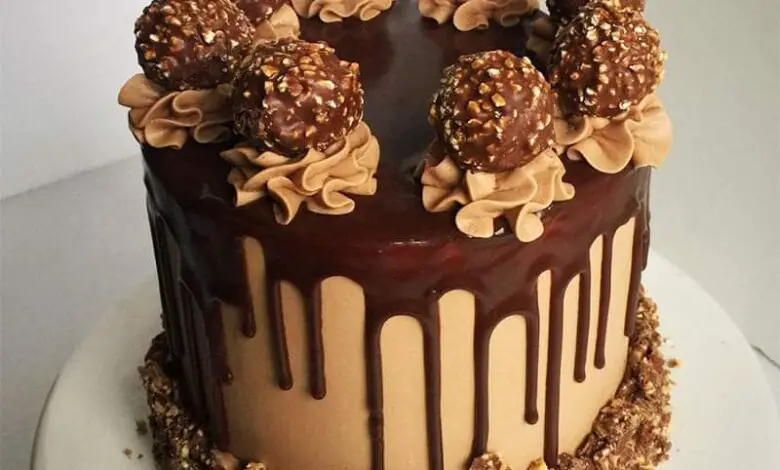 Ingredients:
I used (3) 6-inch pans, greased and floured. (I recommend to use 3 pans as the outcome is super moist and soft. However, you can also use one 6- inch pan, baking time is longer, probably you'll need 40-45 minutes more with the same temperature)
Eggless Chocolate Cake
• 100g [¼ cup + 3 tbsp] unsalted butter
• 200g [1⅔ cup] cake flour
• 40g [⅓ cup] cocoa powder
• 1½ tsp baking powder
• ½ tsp baking soda
• ½ tsp salt
• 100g [½ cup] fine sugar
• 240g [1 cup] plain yogurt
• 1 tsp vanilla extract
• 60ml [½ cup] milk
Chocolate Ganache Frosting
• 380g [2¼ cup] semi-sweet compound chocolate
• 190g [¾ cup +1 tbsp] whipping cream, hot
• 28g [2 tbsp] butter
• 20g [1 tbsp] honey
Syrup
• 5g [2 tsp] instant coffee
• 13g [1 tbsp] fine sugar
• 30g [2 tbsp] hot water
Chocolate Truffles
• 120g [¾ cup] compound dark chocolate
• 60g [¼ cup] whipping cream, hot
• 40g [¼ cup] dark chocolate
• 1 tsp oil
• 40g [¼ cup] white chocolate
• 1 tsp oil
Chocolate Drizzle
40g dark chocolate
20g whipping cream, hot
Instructions:
Chocolate Cake
Preheat oven at 175°C/345°F. Cut the butter and place them in a large bowl, let it rest until softened. Prepare the pans.
Greased and floured. Set aside. Sift all the dry ingredients: cake flour, cocoa powder, baking powder, baking sode and salt. Give it a quick mix and set aside. In the bowl of butter, add in the sugar.
Mix the butter and sugar on high speed for 3 minutes or until creamy and fluffy. Add in the yogurt and vanilla extract. Mix until well combined. Add in the sifted dry ingredients in few batches, alternate with the milk.
Use a electric to mix just for few seconds until combined, do not over mix. Then add in the milk, mix to combine. Transfer batter into a 6 inch pan. Bake in preheated oven at 175°C/345°F for about 35 minutes or until inserted skewer comes out clean.
REMARK: you can also use one pan instead of 3 pans. Baking time is 40-45 minutes.
Cool the cake on a cooling rack. Trim off the dome if necessary. Chocolate Ganache Frosting In a mixing bowl, add in the chocolate, hot whipping cream, butter and honey.
Place the bowl over a double boiler. Mix until the chocolate mixture until melted and creamy. Make sure there is no lumps. Remove the bowl from the pot. (be careful do not drip water into the chocolate).
Microwave for 1 minutes or until the chocolate is completely melted, do not over heat the chocolate. The chocolate has to be flowy to ease the coating work. Bring out the chocolate balls.
Use a skewer to prick to hold them. Coat them respectively into the melted chocolate. I used a cooling rack as the skewer holder. Let the rest to dry the coatings.
Drizzle some chocolates onto the truffles respectively. (the dark chocolate onto the white balls and the white chocolate onto the dark balls) Decorate the cake with these beautiful chocolate truffles.
Chocolate Drizzle Add the chocolate and whipping cream in a bowl.
Microwave for 1 minute or until the chocolate is melted and smooth in a drizzle consistency.