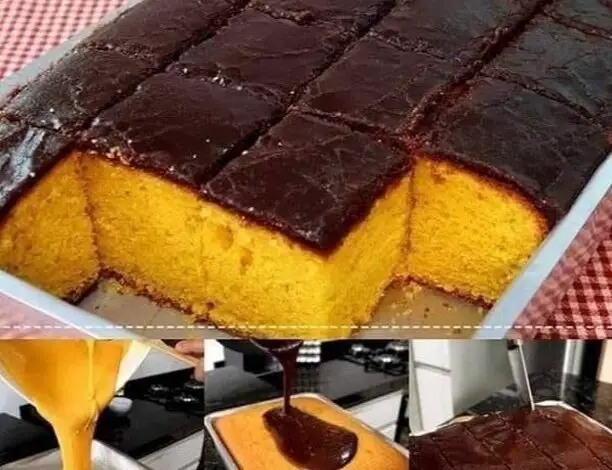 Ingredients
For the cake:
2 1/2 cups all-purpose flour, plus more for the pans
2 teaspoons baking powder
1 teaspoon baking soda
1 teaspoon apple pie spice
1/4 teaspoon salt
1 1/2 cups granulated sugar
1/2 cup packed light brown sugar
1 1/4 cups vegetable oil
4 large eggs
1/2 cup applesauce
1 teaspoon pure vanilla extract
2 1/2 cups finely grated carrots (about 4 medium carrots)
For the frosting:
1 1/2 cups heavy cream
24 ounces semisweet chocolate, finely chopped
2 tablespoons unsalted butter
For the web topping:
16 marshmallows
5 to 6 drops orange gel food coloring
Directions
Make the cake: Preheat the oven to 350 degrees F. Coat two 9-inch-round cake pans with cooking spray and line the bottoms with parchment paper. Coat the parchment with cooking spray and dust with flour, tapping out the excess. Sift the flour, baking powder, baking soda, apple pie spice and salt into a medium bowl.
Beat the granulated sugar, brown sugar, vegetable oil, eggs, applesauce and vanilla in a large bowl with a mixer on medium speed until combined, about 2 minutes.
Reduce the speed to low and beat in the flour mixture until just combined. Fold in the carrots with a rubber spatula.
Divide the batter between the prepared pans; bake until each cake pulls away slightly from the side of the pan and a toothpick inserted into the center comes out clean, about 40 minutes. Transfer to a rack and let cool 10 minutes in the pans, then invert onto the rack to cool completely; remove the parchment.
Meanwhile, make the frosting: Heat the heavy cream until almost simmering in a medium saucepan over medium-high heat. Remove from the heat, add the chocolate and butter and let sit, without stirring, 5 minutes; stir until smooth. Let cool to room temperature, about 2 hours.
Place one cake layer on a platter. Spread the top with 1 cup frosting; refrigerate until the frosting is set, about 10 minutes. Top with the second cake layer and spread a thin layer of frosting on the top and side; refrigerate until set, about 10 minutes. Cover the cake with the remaining frosting.
Make the web topping: Beat the marshmallows and food coloring in a large bowl with a mixer fitted with the whisk attachment on low speed until the marshmallows break up, about 1 minute.
Increase the speed to medium high and beat until glossy and smooth. Using two forks, pull out about 1 tablespoon of marshmallow at a time, stretch into thin strands and drape over the top of the cake to create a web. Photograph by Kate Mathis