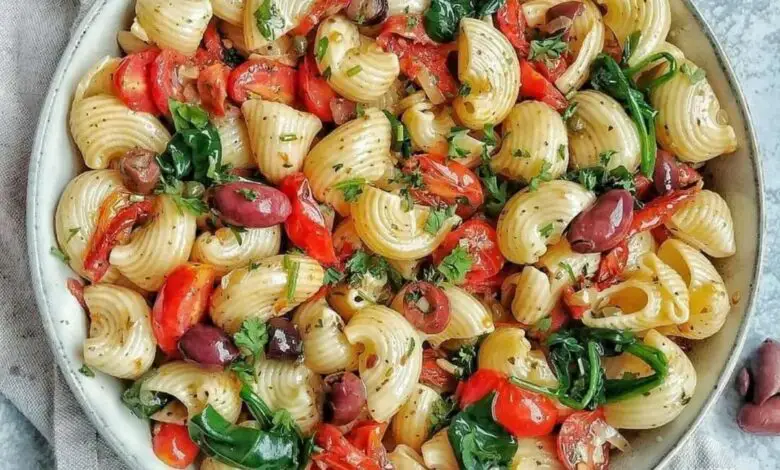 Ingredients
1/2 lb. pasta
1/4 cup olive oil
1 small onion finely chopped
4 to 5 cloves garlic minced
1 pint cherry tomatoes sliced lengthwise
1 tsp kosher salt
1/2 tsp pepper
1 tsp dried oregano
1 tsp dried basil
1 cup dry white wine
1/3 cup pitted kalamata olives roughly chopped (some whole)
1/2 cup marinated sun-dried tomatoes, chopped or thinly sliced
2 cups (packed) baby spinach
2 tbsp capers (optional)
Juice of 1/2 lemon
2 tbsp (packed) fresh parsley chopped
Method
Cook pasta in salted water to al dente. Meanwhile in a large pan, add oil and onion, cook around 8 to 10 min until softened. Add garlic, cook 1 min. Add tomatoes and seasonings, stir, cook 5 min. Add wine, stir, let reduce by half (gently bubbling away).
Add olives, sun-dried tomatoes and spinach. Stir and cook until spinach is just wilted, around 2 min.
Add cooked pasta, lemon juice, capers, stir. Serve and top with parsley. Drizzle with bit of olive oil and more lemon juice if desired.