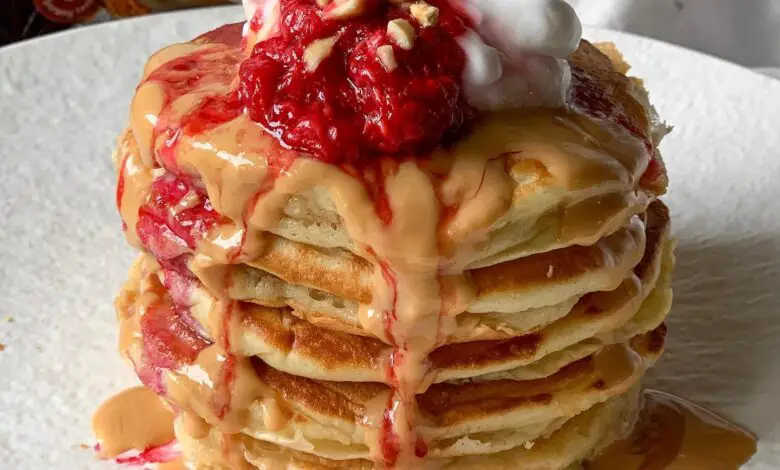 Makes 5-6 pancakes:
*55g plain flour
*1/2 tsp baking powder
*1/4 tsp baking soda
*1 egg
*2-3 tsp pure Canadian maple syrup
*100g thick (coconut) yoghurt
*1 tbsp plant milk
*5tsp peanut butter + more for topping
*handful frozen berries
🥞freeze 1 tsp circles of peanut butter
🥞beat egg with syrup and milk, then mix in yoghurt
🥞separately combine flour, baking powder, baking soda
🥞add dry ingredients to wet – should be a thick batter!
🥞heat pancake pan and then add cooking spray
🥞add 1 tbsp batter to pan and place a frozen pb disc on top. cover with more batter
🥞once bubbles appear flip and cook on other side until golden
🥞repeat for 4-5 pancakes
🥞stack and top with all the goods! (Maple syrup, berry compote, coconut yog, crushed peanuts, smooth pb)
**for berry compote stew frozen berries with a dash of maple syrup until broken down
pancake day done right 🙂
Are you team fluffy pancake or team crepe? what are you having on your pancakes?