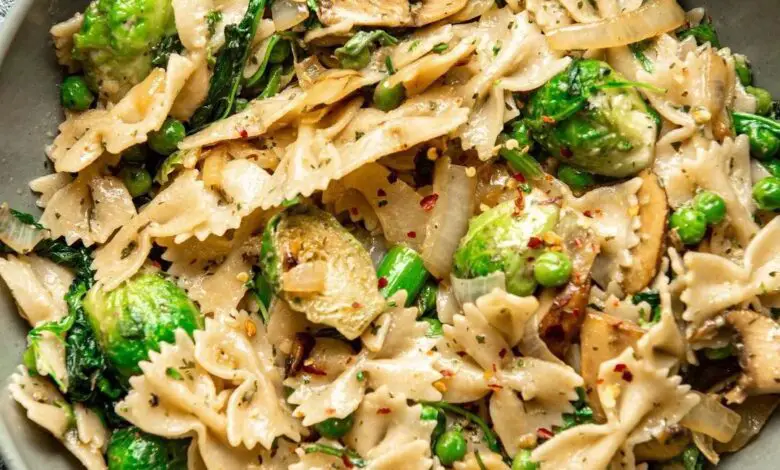 Ingredients:
340 gr. farfalle
4 tbsp olive oil
Pinch chili flakes
1/2 onion diced
4 (small)cloves garlic smashed
6 cremini mushrooms sliced
8 brussel sprouts halved
Small bunch rapini chopped
3/4 cup frozen peas
2 tbsp cheese (vegan) crumbled 1/4 cup pesto Fistful arugula
1/2 cup pasta water
Seas salt and cracked pepper
Method
Generously salt water and cook bow ties until al dente. Reserve water before draining. Add 3 tbsp olive oil to a Dutch oven and add chili flakes and onion.
Sauté until translucent. Add garlic and mushrooms. Coat shrooms in oil and leave alone for 1 minute.
Once shrooms start to brain and soften add brussels. Toss together adding more oil if necessary. Once brussels start to brown add rapini.
Toss everything together and season well. Add a splash of pasta water to get things moving. Once rapini starts to soften add peas. Toss again.
Finally, add pasta, pesto and goat cheese. Toss to coat evenly. Layer in some pasta water to help emulsify the sauce.
Lastly add arugula, grated parm and season with salt and cracked pepper. Grate vegan parm if you have.