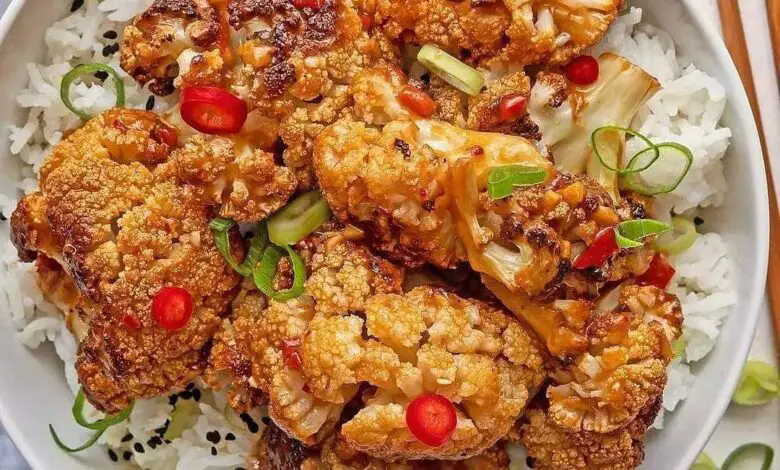 𝗜𝗻𝗴𝗿𝗲𝗱𝗶𝗲𝗻𝘁𝘀:
1 head of Cauliflower
1-2 Tbsp of Grape Seed Oil for roasting
1 1/2 Tbsp of Chili Paste
3 tsp of Rice Vinegar
3 tsp of Beefree Honee or other sweetener
2 tsp of Soy Sauce
1 Fresno Pepper seeded and chopped ( you can use a pepper with more heat such as a Thai Chili)
3/4 – 1 cup Water
1 Tbsp of Cornstarch mixed with 3 Tbsp of Water to make a slurry
2 cups of cooked Rice for serving
Green Onion sliced for garnish
𝗗𝗶𝗿𝗲𝗰𝘁𝗶𝗼𝗻𝘀:
1. Cut the Cauliflower into florets and toss with Grape Seed Oil, Salt & Pepper. Lay them on a baking sheet and roast them at 375 for 25 minutes. Flip and continue roasting for another 20 minutes
2. In a small sauce pan on med heat add the Water, Chili Paste, Rice Vinegar, Soy Sauce, Sweetener, chopped Pepper. Bring to a soft boil.
3. Add in the Cornstarch slurry and mix until sauce thickens which will happen fairly quickly.
4. In a large bowl toss the roasted Cauliflower with the Sweet Chili sauce until completely coated, top with Green Onions and serve over Rice.