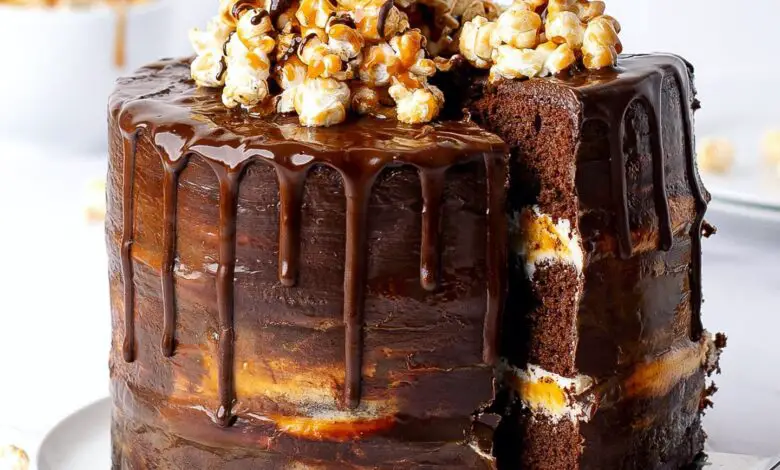 Chocolate cake
300g butter
150g caster sugar
150g soft light brown sugar
140g self raising flour
60g cocoa powder
240g sour cream
6 eggs
1tbsp vanilla extract
1/2 tsp salt
Caramel Miso
250g caster sugar
120g water
170g heavy cream
2tbsp white miso
Vanilla buttercream
120g butter
350g icing sugar
2-3 tbsp milk
1tbsp vanilla extract
Chocolate icing
Cooks' Ingredients Tanzanian Choc Icing
Method
1.Mix the butter & sugars together until creamy, sift the flour, salt & cocoa together.
2.Add the sour cream, vanilla extract, mix until combined.
3.Alternate adding the eggs & flour mix into the bowl until combined. Bake 3 x 6" cakes @170c 25-30 mins
4.Caramel Miso sauce: Add the sugar to a heavy bottom sauce pan on medium heat, pour the water on top. It will bubble, take off the heat when it turn golden brown.
5.Add the butter, whisk, then the cream. Pop back on the heat and whisk until everything is combined.Whisk in the miso. Add the slightly cooled caramel to a heat proof container/jar.
6.Make the vanilla buttercream, level the cakes & stack on top of each other with a layer of buttercream & miso caramel in between. You can swirl the miso Carmel into the buttercream or drizzle on top of buttercream after spreading on the each cake layer. Use a cake scraper to even out the icing on the sides of the cake.
7.Its a semi naked cake, you don't need a lot of icing. I used Waitrose Tanzanian choc icing. Spread all over cake and spoonfuls of caramel, smooth with a cake scraper. Pop in fridge 30mins.
8.Melt 250g chocolate and drip down the sides and top of the cake.
9.Make some popcorn, drizzle the miso caramel on top & add to the top of the cake.