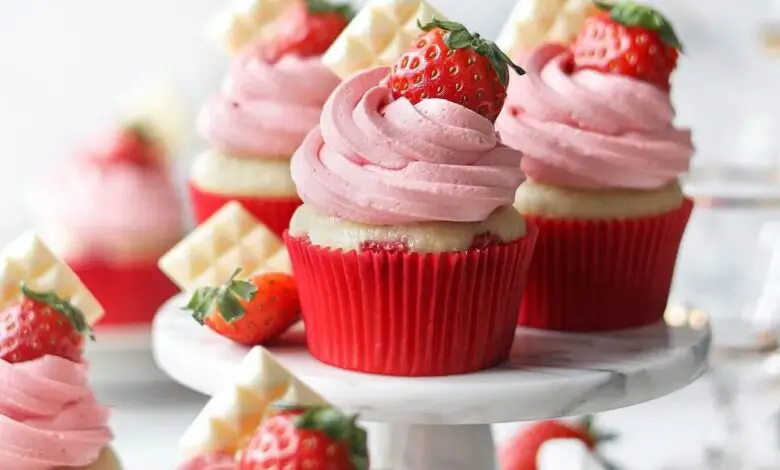 𝒓𝒆𝒄𝒊𝒑𝒆𝒔
Ingredients
cupcakes

150g cake flour
16g cornstarch
1 tsp baking powder
1/2 tsp baking soda
70g powdered sugar, sifted
1 cup unsweetened soy milk, room temperature 1/3 cup coconut oil
1 tbsp white vinegar
2 tsp vanilla bean extract
1/4 tsp  salt
1/2 cup diced strawberries
Coconut cream frosting
150g can coconut milk
125g dairy free white chocolate
220g coconut whipping cream chilled Red beet powder for the colour
Bring coconut milk to a boil, pour hot milk over the chocolate and whisk until smooth.
Add the dissolved red beet powder and cold coconut whipping cream and whisk for 2 minutes. Cover and refrigerate overnight.
Preheat the oven to 170c. Prepare muffins pan with liners, set aside.
In a large bowl, sift dry ingredients and whisk to combine.
Add in milk, vanilla, coconut oil, white vinegar. And until well combined. Fold in strawberries.
Divide batter evenly between 8 cupcake lines in a muffin pan. Bake for 20 mins until toothpick comes out clean.
Let cool completely before frosting.
Whip chilled Chantilly cream with an electric mixer until soft peaks form. Pipe cream on the cupcakes and serve