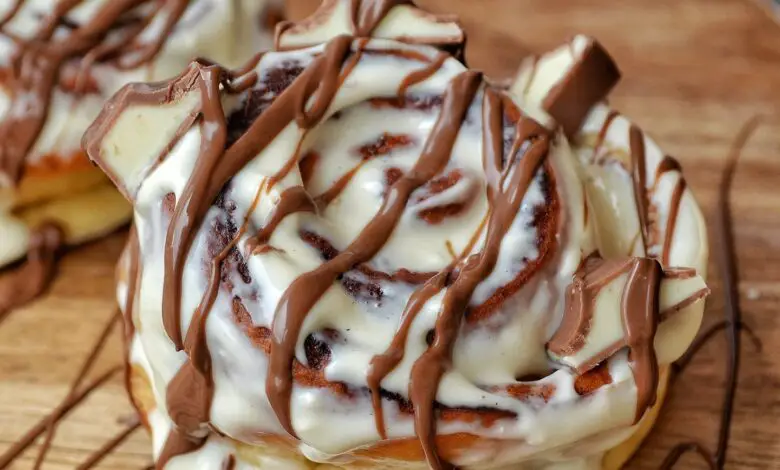 Ingredients:
60g Flour
64g Vanilla Casein
3g Baking Powder
1/2 Cup Warm Water
7g Dry Active Yeast
4g Sugar
25g Egg Whites
Filling:
15g Light Butter/Butter Substitute
2 Tsp Cinnamon
1 Tbs Sweetener
Icing:
30g Light Cream Cheese
15ml Almond Milk
30g Vanilla Whey
20g Nutella
1 Snack Kinder (optional)
Method:
1. Preheat oven to 180C and prepare your desired baking pan. (I used two 4 inch springform tins)
2. Add warm water (just hot to touch) to a glass, then pour in yeast and sugar and stir to combine. Leave to the side for around 15 minutes and it'll puff up a tonne.
3. While the yeast is activating, sieve protein, flour and baking powder into a mixing bowl and whisk to combine.
4. When the yeast is ready, pour it into the dry mix and add egg white, then stir to create your dough.
5. Once dough is formed, pull out and begin kneading on a large piece of baking paper.
6. After a quick knead, add to an oiled bowl and cover, leaving for 20 minutes to rise. While it's rising, combine your filling ingredients in a bowl and melt together.
7. Once your 20 minutes is up, punch the dough back down to remove the air and then roll out into a rectangle between two sheets of baking paper.
8. Brush your filling on to your rolled out dough, then roll up and slice in half to make two rolls.
9. Throw them bad bois in the oven for 10-12 minutes, and while they're cooking combine your icing ingredients in a bowl and whisk with a fork to combine, then put in fridge.
10. Pull 'em out, let 'em cool, ice 'em, smash 'em, love 'em. xx
Cals for Entire Batch: 833kcal
70C 85P 22F
*
Cals Per Roll: 417kcal
35C 42.5P 11F
*
Cals Per Roll (no icing): 282kcal
30C 31P 4.5F