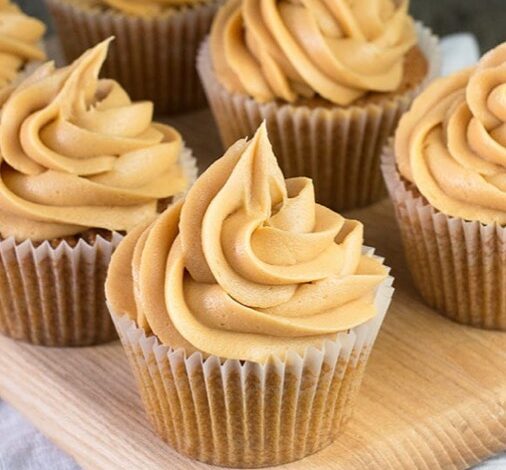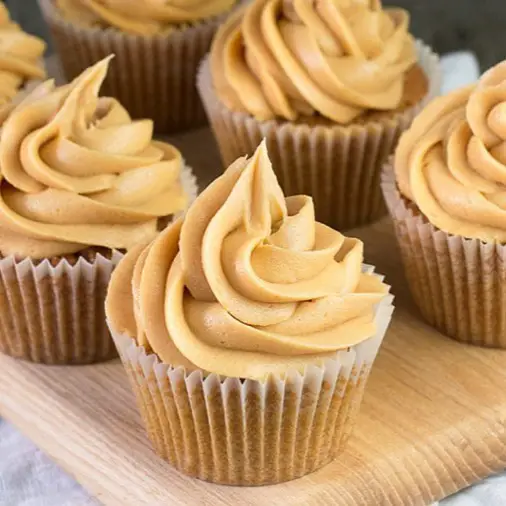 Ingredients
Cupcakes:
1½ cups all purpose flour
1 tsp baking soda
½ tsp salt
½ cup sugar
½ cup brown sugar
1 cup plant milk
1 tbsp apple cider vinegar
1 tbsp vanilla
⅓ cup neutral vegetable oil
Caramel Sauce:

¾ cup sugar
¼ cup water
½ cup coconut milk (from a can)
1 tbsp vegan butter
1 tsp vanilla
½ tsp salt (more to taste)
Icing:

½ cup vegan butter (I use Melt)
½ tsp vanilla
2 cups icing sugar (plus extra if too thin).
2 tbsp caramel
2 tbsp plant milk
¼ tsp salt
Method
FOR THE CUPCAKES:

Preheat oven to 350'F and prepare a muffin pan with 12 muffin cup liners.
In a small bowl mix together the flour, baking soda, and salt. Set aside.
In a larger bowl, combine the sugars, milk, vinegar, vanilla, and oil.
Beat the mixture with electric mixer (or very vigorous whisking) to ensure it's well combined.
Gradually add the dry ingredients to the wet, beating the mixture after each addition.
Beat until the mixture is well combined.
Pour the batter into each muffin cup, filling each to about ⅔ full.
Bake for 18-22 minutes, checking for doneness after about 15 minutes. The tops should spring back quickly when pressed lightly and a cake tester should come out clean.
Remove from oven, let cool in pan for about 5 minutes and then remove to a cooling rack. Let cool COMPLETELY before icing.
FOR THE CARAMEL SAUCE:
In a 3 quart saucepan over medium heat combine the sugar and the water.
Stir to dissolve the sugar just until the mixture comes to a boil.
Once the mixture begins to boil STOP stirring!
Watch the pot carefully as the sugar will suddenly be ready. Let the pan boil and as the water cooks off, the sugar will begin to brown.
Once the sugar mixture is a medium brown/caramelly colour remove the pot from the heat and pour in the coconut milk and vanilla.
If the sugar mixture seizes from the cool milk simply return the pot to low heat to re-melt it.
Stir the pot over low heat until the mixture is smooth.
continued below