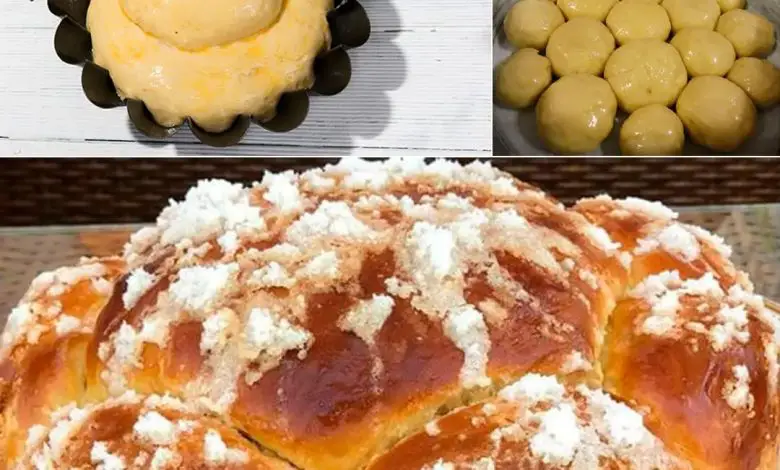 Portuguese brioche filled with chocolate
If you are thinking of making a different breakfast or snack, the chocolate-filled Portuguese Brioche will be the one. Because, it is spongy inside and has a very soft texture. Additionally, you can accompany it with coffee or tea, children love it for its rich flavor. Below we will describe all the steps you must follow and the products you will need for its preparation.
Ingredients
The ingredients you will most need to make Portuguese Brioche filled with chocolate are easy to find in any supermarket. In addition, you will surely have them in your home pantry, so you will not have any problems preparing them.
• 100 grams of powdered sugar.
• 150 milliliters of milk.
• 4 eggs.
• 2 tablespoons instant yeast.
• ½ kilograms of wheat flour.
• 1 pinch of salt.
• 100 grams of butter.
• 250 grams of chocolate bar.
• 1 egg to decorate the cake.
Steps
The procedure you must follow is very simple, you will only need a 28 cm round mold. That is, it requires you to be an expert pastry chef or baker so that the Portuguese Brioche filled with chocolate is delicious.
Step 1
In a bowl, place the powdered sugar and add the liquid milk plus the eggs. Then, with the help of the electric mixer for about 30 seconds.
Step 2
Add the flour together with the previously sifted yeast and knead for 5 minutes or until very smooth. Also, have a homogeneous consistency.
Step 3
Add the butter along with the teaspoon of salt and continue kneading for about 10 minutes.
Step 4
Let it rest for 30 minutes in a closed place or until it doubles in volume.
Step 5
Divide the dough into 8 equal-sized pieces and one larger piece, then shape into balls. Later, grease the mold and place the largest ball in the center.
Step 6
Place a piece of chocolate in each of the dough balls and cover so that it does not spill out of the brioche when it melts.
Step 7
Cover the mold with a clean cloth and set aside to double in size.
Step 8
Preheat the oven to 200°C temperature. Then, with a brush, spread the beaten egg so that the bun browns on top.
Step 9
Bake for 30 minutes, then remove and let cool. If you wish, you can decorate it with icing sugar and candied fruits to your liking.
Finally, you now know the process to prepare Portuguese Brioche filled with chocolate. Thus, you can taste it during breakfast or snack.