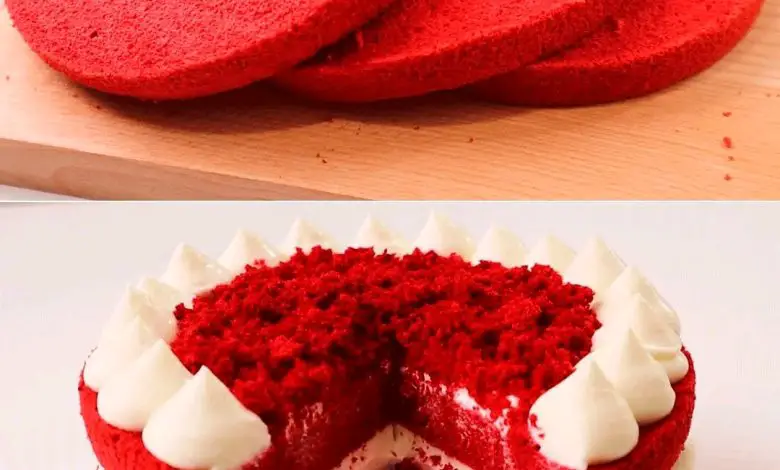 RED VELVET CAKE
A much-loved dessert, Red Velvet Cake is a rich, decadent cake known for its striking red color and velvety texture. This indulgent treat is usually topped with a creamy cream cheese frosting, creating a delicious contrast of flavors and a visually stunning dessert.
Ingredients
For the cake:
250 g unsalted butter
330 g white sugar
10 g red food coloring (gel or paste)
2 eggs
1 teaspoon natural vanilla essence
375 g of refined flour without leavening agent
35 g bitter cocoa
1 teaspoon baking powder
370 ml sour milk (in the procedure I explain how to make it at home)
1 teaspoon baking soda
15 ml vinegar
For the cheese topping:
280 g unsalted butter at room temperature
280 g of talcum sugar or powdered sugar
1 Teaspoon vanilla extract
600 g cream cheese
To decorate the cake:
Natural strawberries c/n
Preparation
For sour milk:
1. Place the milk and lemon juice in a bowl and mix with a wire whisk.
For the cake:
1. Preheat the oven to 160°C.
2. Prepare 3 molds 20cm in diameter and 3cm high with parchment paper on the base.
3. Place the butter in a bowl and beat with an electric mixer until creamy.
4. Add the white sugar and coloring and beat until creamy.
5. Add the eggs one at a time, beating after each addition. Add the vanilla essence. To integrate.
6. In another bowl, sift the dry ingredients: the flour and the baking powder.
7. Add the dry ingredients and acid milk to the preparation, interspersed. To integrate.
8. Add the baking soda to the vinegar. It's going to fizz. Add to the preparation.
9. Divide the preparation and place it in the 3 pans.
10. Bake for 25 minutes or until a toothpick inserted into them comes out clean.
11. Let cool to room temperature. Reserve.
For the cream cheese topping:
1. Place the butter (at room temperature) in a bowl.
2. Beat with an electric mixer so that it is very creamy.
3. Sift the powdered sugar, adding it to the bowl with the butter.
4. Again, beat with an electric mixer so that it is very creamy. It is important that the preparation is well integrated and homogeneous.
5. Add the cream cheese, beating until completely integrated.
For mounting:
1. Place a dot of cream cheese on the cake stand so that the sponge cakes do not move.
2. Unmold the cakes.
3. Place the first cake and a layer of cream cheese on top.
4. Place the second cake and another layer of cream cheese.
5. Place the last cake upside down.
6. Cover the cake with the remaining cream cheese.
7. Decorate the cake with natural strawberries.
IMPORTANT: It is not necessary that you have 3 molds. You can cook the cakes one at a time or you can also make a whole one and cut it into 3 discs.