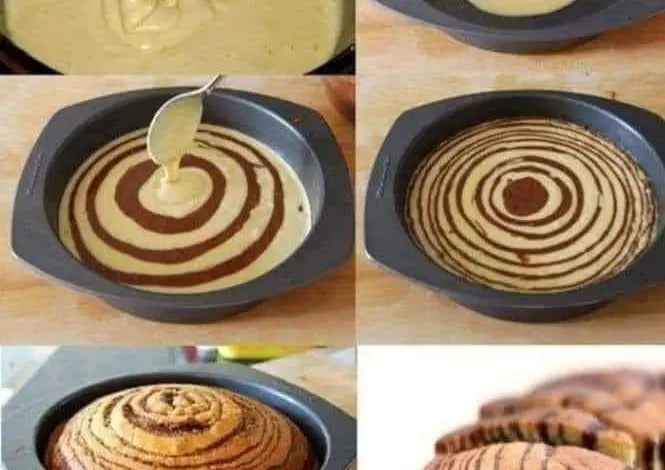 ZEBRA CAKE
Ingredients
4 eggs
1 cup sugar
1 cup vegetable oil
1 cup milk
1 tsp vanilla extract
2 cups flour
2 tsp baking powder
1/4 tsp salt
For the chocolate batter
3 tbsp cocoa powder
1/4 cup milk
1 tbsp sugar (optional)
Procedure
1. Grease or line your baking pan with parchment paper, 8″ round cake pan. Preheat oven at 180 (350 F).
2. Sift together in a large bowl the dry ingredients, flour salt and baking powder. Set aside.
3. In another bowl mix the cocoa powder with 1/4 cup milk and 1 tbsp of sugar.
4. Mix vegetable oil with sugar until creamy. Add eggs and mix until well incorporated. Add vanilla extract.
With the mixer on low, alternate adding gradually milk and flour mixture until all is well incorporated.
5. Remove two cups of the batter and mix them with the chocolate mixture.
Use one tablespoon for each batter to create the layers of batter on the prepared pan.
Begin from the middle of the pan, take one spoon of white batter then over it add a spoon of chocolate batter and repeat this steps until all batter has been used.
Once you're done with the steps, put the pan in the oven and bake for 45 minutes to 1 hour depending on your oven.
Your Zebra cake is ready.