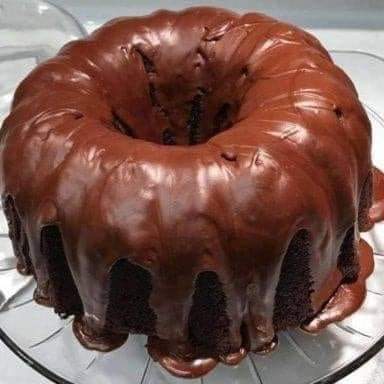 𝐈𝐍𝐆𝐑𝐄𝐃𝐈𝐄𝐍𝐓𝐒:
• 1 box chocolate cake mix
• 1 box chocolate fudge brownie mix
• 4 eggs
• 1 cup oil
• 1 1/4th cup water
𝐈𝐍𝐒𝐓𝐑𝐔𝐂𝐓𝐈𝐎𝐍𝐒:

1. Do not even look at the box directions. All you need is what is listed. Mix all these together.
2. Preheat oven to 350
3. Spray a bundt pan or a 9X13 cake pan with non-stick spray.
4. Put mix in pan.
5. Bake 50-55 min
6. Let rest in pan 10 min then flip out on a rack and allow to fully cool.
7. For the glaze, open a can of chocolate fudge frosting, place in a bowl and heat in microwave for 45 seconds.
8. Drizzle over the cake.