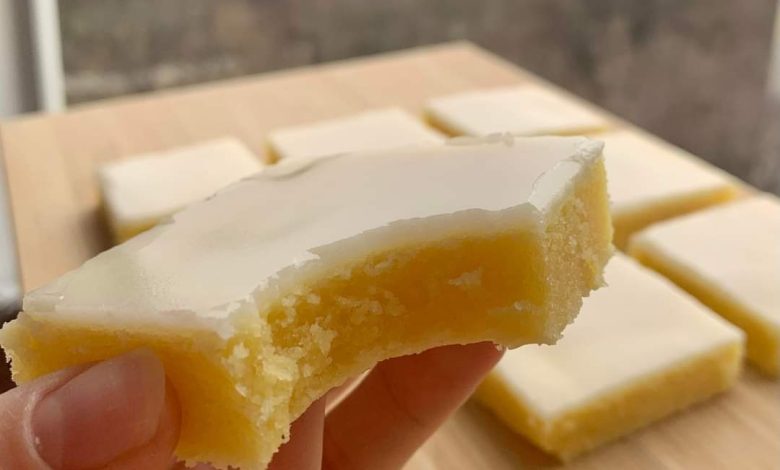 𝙄𝙣𝙜𝙧𝙚𝙙𝙞𝙚𝙣𝙩𝙨:
• 1 cup unsalted butter, melted
• 1 1/2 cups granulated sugar
• 2 large eggs
• 2 tablespoons lemon zest
• 2 tablespoons lemon juice
• 1 teaspoon vanilla extract
• 2 cups all-purpose flour
• 1/2 teaspoon salt
• 1/2 cup powdered sugar
𝗜𝗻𝘀𝘁𝗿𝘂𝗰𝘁𝗶𝗼𝗻𝘀:
1. Preheat your oven to 350°F (180°C). Line a 9×13-inch baking pan with parchment paper.
2. In a large mixing bowl, whisk together the melted butter and granulated sugar until well combined.
3. Add the eggs, lemon zest, lemon juice, and vanilla extract to the bowl and mix until well combined.
4. Add the flour and salt to the bowl and mix until just combined. Do not overmix.
5. Pour the blondie batter into the prepared baking pan and smooth the top with a spatula.
6. Bake the blondies for 20-25 minutes, or until the edges are golden brown and a toothpick inserted into the center comes out clean.
7. Let the blondies cool in the pan for 10 minutes, then use the parchment paper to lift them out of the pan and transfer them to a wire rack to cool completely.
8. Once the blondies are cool, sift the powdered sugar over the top. Cut the blondies into squares and serve. Enjoy!