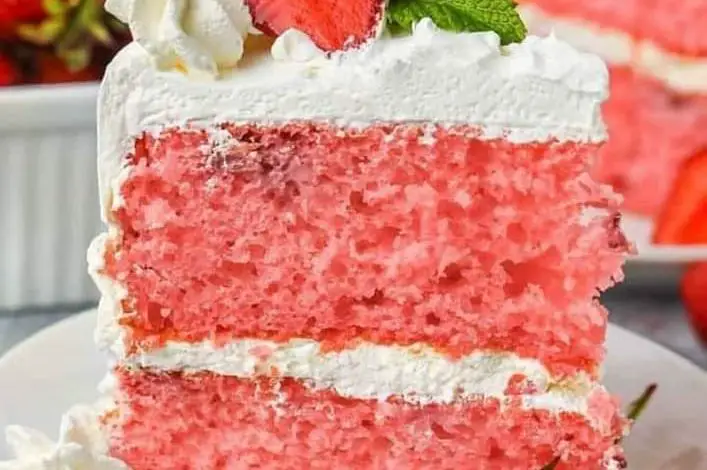 Ingredients:
Cake:
4 large eggs separated
1 box white cake mix
½ cup vegetable oil
1 box strawberry Jell-O 3 ounces
¾ cup fresh strawberries finely chopped
½ cup sour cream
¼ cup milk
Creamy Topping:
8 ounces whipped topping* thawed
Instructions:
Cake:
Preheat the oven to 350°F. Line the bottom of two 9-inch cake pans with parchment paper and grease the sides. Mix cake mix, egg yolks, oil, Jell-o, sour cream, and milk in a large bowl. Set aside.
With a hand mixer, beat the egg whites on high speed until stiff peaks form, about 4 minutes. Fold the egg whites and strawberries into the cake batter.
Pour the batter into the prepared pans and bake for 32-36 minutes or until a toothpick inserted in the center comes out clean.
Place pan on a wire rack and cool for 10 minutes. Remove the cakes from the pan and cool completely.
Cut completely cooled and spread a 1-inch layer of whipped topping or whipped cream on one of the cakes. Top with the second layer of cake.
Spread with additional whipped topping. Refrigerate for at least one hour.