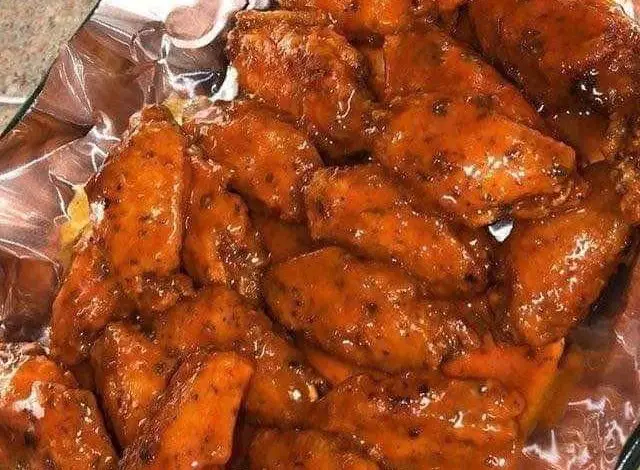 INGREDIENTS FOR 4 PEOPLE
12 chicken wings
200g of a spicy sauce of your choice (it can be a little more or a little less, depending on how spicy the sauce in question is and your taste for spiciness)
100g butter
1 and a half teaspoons of cayenne pepper or ground chili
1 and a half teaspoons of paprika or Paprika A teaspoon of garlic powder 100g of flour
1 splash of vinegar
1 teaspoon of cornstarch (fine cornmeal) salt and pepper a pinch of sugar Oil
Preparation:
1.- If we don't already have them cut, we cut the chicken wings. Using a very sharp knife, we cut each wing at its joint. The lace, we remove it
2.- Once cut, we put them in a bowl. Then we salt and pepper and add the flour, a teaspoon of paprika and another of the cayenne or chili pepper. We remove well with our hands, so that the chicken wings are well impregnated with the mixture and we reserve in the fridge for 1 hour to 1 hour and a half.
3.- After the time, we fry the wings in abundant oil. We must fry them around 10 minutes, until they are golden.
4.- While it is cooking, we prepare the buffalo wings sauce. In another saucepan, add the butter and melt it over low heat. Then add the hot sauce, a pinch of sugar, a splash of vinegar, a teaspoon of garlic powder, a teaspoon of paprika, another teaspoon of cayenne or chili pepper and a teaspoon of cornstarch. We remove and integrate all the ingredients well and cook over low heat for about 10 minutes.
5.- After the time, we will have the wings fried and the sauce ready. First of all, we remove the chicken wings from the oil and place them on absorbent paper, to remove excess oil.
6.- Place the chicken in a frying pan or other container and put the sauce on top. Stir well and serve immediately. Don't get cold! If you are a lover of wings, do not forget to leave your Like and save the album on your wall when sharing it.