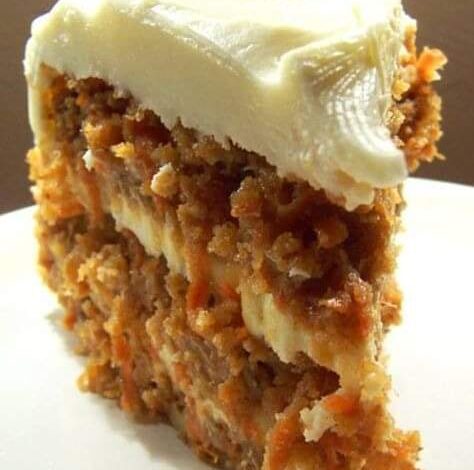 𝐈𝐧𝐠𝐫𝐞𝐝𝐢𝐞𝐧𝐭𝐬:
• 6 cups shredded carrots
• 1 cup brown sugar
• 1 cup raisin
• four eggs
• 1 12 cups white sugar
• 1 cup vegetable oil
• 2 teaspoons of vanilla extract
• 1 cup pineapple, drained
• three cups flour
• 1 half teaspoons baking soda
• 1 teaspoon salt
• four teaspoons cinnamon
• 1 cup chopped walnuts
𝗗𝗶𝗿𝗲𝗰𝘁𝗶𝗼𝗻𝘀:
1. In a medium-sized bowl, mix shredded carrots and brown sugar. Set apart for 60 mins, then turn with raisins.
2. Heat the oven to 350 degrees F. Grease and grease 10-inch cake pans.
3. In a bowl, beat eggs till light. Gradually whisk collectively the white sugar, oil and vanilla.. Combine the flour, baking soda, salt, and cinnamon, and stir till the moist combination is absorbed. Finally upload the carrot and walnut combination. Pour frivolously into organized saucepans.
4. Bake for forty-five to 50 mins withinside the preheated oven, till cake tests are done with a toothpick. Cool for 10 mins earlier than eliminating them from the pan. When absolutely cooled, frost with cheese frosting.
5. Enjoy !