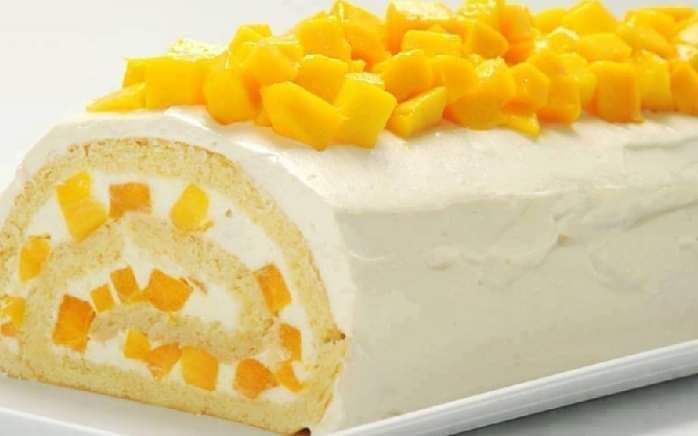 INGREDIENTS:
*DOUGH
100 G OF FLOUR
170 G SUGAR
1 AND 1/2 TEPS OF BAKING POWDER 75G BUTTER
1 BIT OF VANILLA
4 EGGS (SEPARATED THE YOLK FROM THE WHITE) *FILLING AND
DECORATION 4 MANGOES (3 DICED AND 1 STRIPPED) 190 G CREAM
CHEESE 75 G GLASS SUGAR 125 ML OF MILK CREAM
PREPARATION:
THE FIRST THING I DO IS ASSEMBLE THE WHITES THAT ARE VERY THICK. WE SEE THE FLOUR WITH THE BAKING POWDER AND THE SUGAR TWICE, I INTEGRATE THE SOFT BUTTER, THE VANILLA AND THE YOLK IN THE BLENDER.
I PASS EVERYTHING WHERE I HAVE THE WHITES MOUNTED AND I MIX IT WITH SURROUNDING MOVEMENTS, I PASS IT TO THE OVEN IN GREASED AND FLOURED ALUMINUM PAPER.
BAKE AT 180° C FOR 20 MIN OR WHEN I INSERT A KNIFE AND IT COMES OUT CLEAN. WHILE IT IS BAKING, MIX THE CHEESE, THE CREAM, AND FINALLY THE GLASS SUGAR WITH THE BLENDER. IF YOU LIKE YOU CAN ADD A FEW DROPS OF LEMON.
I TAKE A KITCHEN CLOTH, I MOISTEN IT AND DRAIN IT, AND I BOOK IT. OUR QUEEN'S ARM DOUGH, STILL WARM, I CAREFULLY REMOVE THE ALUMINUM FOIL, SPREAD HALF OF THE CREAM AND ADD THE CUBITED MANGO, THEN I ROLL IT VERY CAREFULLY WITH THE HELP OF THE FABRIC,
I SPREAD THE REST OF THE CREAM ALL SIDES AND PUT THE MANGO IN STRIPS OR CUBES, TO DECORATE ON AND AROUND. LET COOL IN THE FRIDGE.