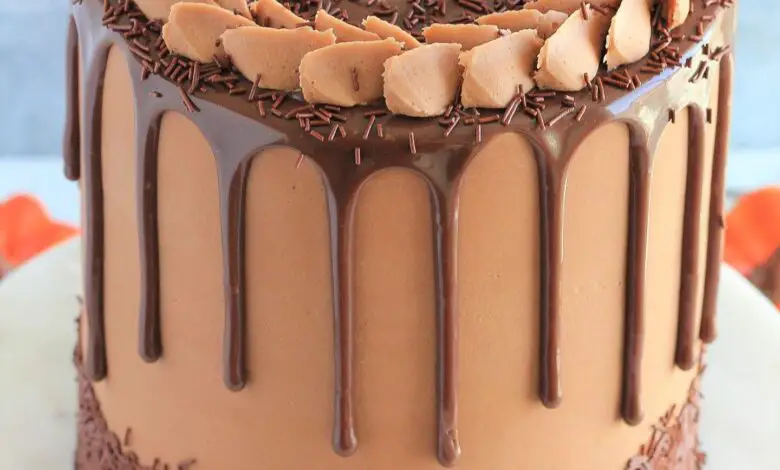 Ingredients
15oz canned pumpkin *not canned pumpkin pie
1 Tablespoon pumpkin pie spice
3 whole eggs room temperature
1/2 cup sour cream room temperature
1/2 cup buttermilk room temperature
1/3 cup vegetable oil
1 teaspoon pure vanilla
1 yellow cake mix I prefer the taste and texture of Duncan Hines, but any brand should be somewhat similar.
1/2 cup mini semi-sweet chocolate chips
Classic Chocolate Buttercream
1/2 cup heavy cream *Add about 1/4 cup more at the END of making your buttercream IF NEEDED for a thinner consistency.
1/2 cup semi-sweet or dark chocolate chips
4 sticks unsalted butter (2 cups), left at room temperature for 10 minutes
1 pinch salt
1/2 cup unsweetened cocoa powder
7-8 cups powdered sugar sifted, if you can. if not, don't stress about it.
Garnishes
1 cup chocolate sprinkles
Instructions
Pumpkin Chocolate Chip Cake
Preheat the oven to 325 degrees convection bake or 350 traditional bake. Prep 3 6″ cake rounds or 2 8″ cake rounds with a swipe of shortening and a dust of flour, or 24 cupcake tins with cupcake liners. Set aside.
In a large bowl (no stand mixer needed for the cake batter), whisk together the canned pumpkin, pumpkin pie spice, eggs, sour cream, buttermilk, vegetable oil, and vanilla until everything is combined thoroughly. Sift in the cake mix and whisk in gently (don't overmix) until the dry ingredients are just barely combined. Fold in the mini chocolate chips.
Split batter between prepared cake rounds or cupcakes.
Bake for 30-32 minutes for cake rounds, and 12-15 minutes for the cupcakes. Remove from the oven and let cool in their pans for 2 minutes, then flip out onto a wire rack for cooling to room temp. Wrap in plastic wrap or wrap cupcakes on a cookie sheet, and freeze 2 hours or overnight for easier assembly.
Classic Chocolate Buttercream
In a small glass microwave-safe bowl, stir together the chocolate and heavy cream. Microwave for only 30 seconds, then stir. Add another 10 seconds if needed, stir. Let cool slightly until it's almost room temperature.
With a stand mixer fitted with a paddle attachment, whip up the butter until it's light and fluffy. Add in the cooled chocolate ganache, and mix on medium until thoroughly combined. Add in the salt, cocoa powder, and powdered sugar. The buttercream may be thick, depending on the temperature of the ganache when you added it to the buttercream. Add in a touch more of heavy cream if needed (by the Tablespoon), or powdered sugar (by the 1/4 cup) if needed for a thick or thin consistency. Whip up the buttercream on HIGH speed for 2 minutes to lighten texture and color.
But I have to say, my chocolate chip pumpkin cake really does make a strong argument here with its thick pumpkin layers (that taste just like pumpkin pie), little pieces of chocolate throughout, my cocoa buttercream, a ganache drip, and the prettiest buttercream crown on top!
When I created the herringbone buttercream crown a year ago with the petal tip, I wanted to try something different than I'd ever seen before, and it still is one of my favorites designs to date!
Back to the cookies, though… it's just not fall without my soft pumpkin cookies. They're perfect!
Either way, it's finally Friday, and we all could use a little somethin' pumpkin to get the weekend started! #amiright
Recipes for both are on Bakingwithblondie.com for your fall baking