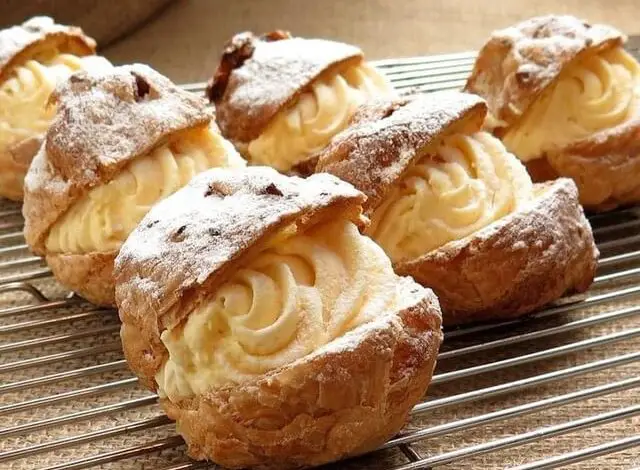 Ingredients:
250 ml of water
50g of butter
150 grams of flour
4 eggs 370g cream
2 tablespoons of sugar
2 packets of vanilla sugar a pinch of salt
Preparation:
Put the water, butter and a pinch of salt in a pot and let it boil until the butter melts. Then add the flour and stir everything together until a dough forms.
Take a bowl and pour the batter into it. With a suitable spoon, mix the eggs with the dough one by one.
Preheat the oven to about 190 degrees. Take a pastry bag and fill it with the dough. You are now making small, circular dough shapes on a piece of baking paper.
Now put everything in the oven for about 20 minutes until the cakes have a nice brown color. Let everything cool down before cutting the cake in two.
Next we prepare the filling. To do this, beat the cream, sugar and vanilla sugar until a firm cream is formed. Now you can put the finished cream between the small cakes with a piping bag.
Of course, you can also do this with a spoon. Before serving, you can sprinkle a little icing sugar if you like.