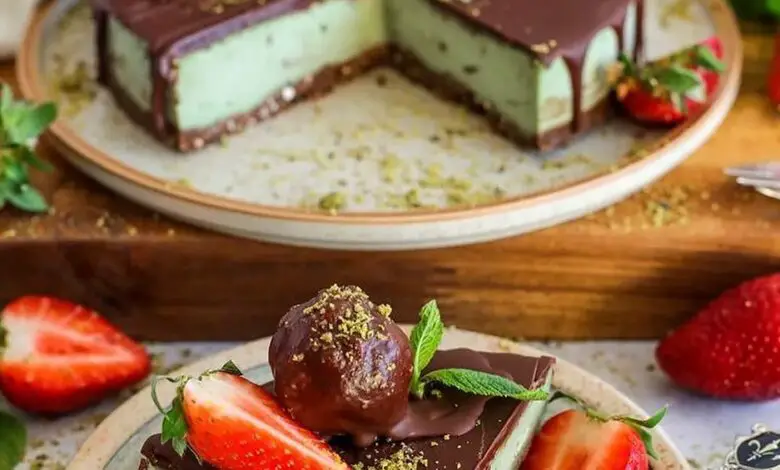 Ingredients for 18 cm round tin
Base
(Dry)
1/2 cup almonds
1/2 cup buckwheat flakes or GF oat flakes
1/4 cocoa beans
1 pinch of salt
1/2 tsp activated charcoal powder
4 Tbsp coconut sugar
(Wet)
1 Tbsp 8 drops of natural vanilla extract
1/4 cup melted coconut oil
4 Tbsp water
Mint Filling
1 cup raw cashew (soaked 6h and rinsed)
6 drops mint natural flavour or essential oil.
1 pinch salt
1 tsp spirulina powder
4 Tbsp agave syrup
2 Tbsp lemon juice juice
1/4 cup melted coconut oil
1/2 cup water
Chocolate Coating
100 g cacao paste
50 g cacao butter
4 Tbsp agave syrup
Method:
1. In a food processor place the dry ingredients for the base until mixture forms a flour. Add wet ingredients and process again until starts sticking together.
2. Use a spoon to press the crust into the bottom of the tin.
3. In a high speed blender mix all the ingredients for the mint filling (except the coconut oil) until smooth.
4. Add coconut oil and blend until well combined.
5. Pour the filling mixture into the base and freeze it overnight.
6. Melt cacao butter and cacao paste double boiler method.
7. Add agave syrup and stir until well combined.
8. Place dollops of ganache around the top edges of the cooled cake, allowing some to drip down. Fill in the top of the cake with more ganache.
P.S: garnish with fresh mint, strawberries, pistachios and chocolate. Enjoy!