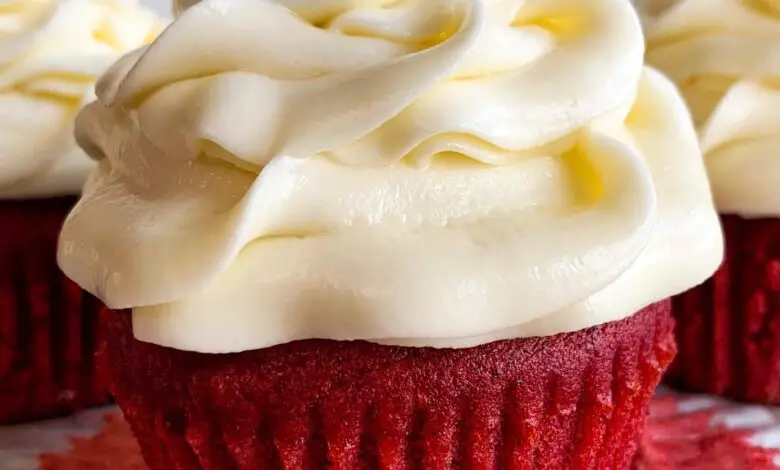 Ingredients
DRY INGREDIENTS:
1 1/3 cups cake flour (sub plain / all purpose flour, Note 1)
1 tbsp cocoa powder , unsweetened
1 1/2 tsp baking powder
Pinch of salt
WET INGREDIENTS:
60g / 4 tbsp unsalted butter , softened
2/3 cup caster sugar (superfine sugar)
2 large eggs , at room temperature
1/3 cup vegetable oil (or canola)
1/2 cup buttermilk , at room temperature
1 tsp vanilla extract
1/2 tsp white vinegar
1 tbsp red food colouring (yes, 1 whole tablespoon!)
CREAM CHEESE FROSTING:
1/3 cup unsalted butter , softened
170g / 6oz Philadelphia block cream cheese , softened
1/2 tsp vanilla extract
1/8 tsp salt
2 1/2 cups soft icing sugar mixture (powdered sugar)
Instructions
CUPCAKES:
Preheat oven to 180°C/350°F (160°C fan). Line a standard 12 hole muffin tin with cupcake liners.
Sift Dry ingredients together into a bowl.
Cream butter: Put the butter in a separate bowl and beat on speed 2 for 1 minute with an electric mixer or stand mixer (paddle attachment).
Cream sugar: Add sugar then beat for a further 2 minutes, same speed, until the butter is very pale yellow, almost white.
Beat in eggs: Add the eggs one at a time beating for 30 seconds on speed 1 after each addition.
Add remaining Wet ingredients: Add oil, buttermilk, vanilla and red food colouring then beat on Speed 1 until incorporated and the batter is smooth.
Beat in flour: Sprinkle the Dry ingredients across the surface and mix on Speed 1 for just 20 seconds. Scrape down sides of the bowl, then mix again for 10 seconds. The batter should now be smooth – few small lumps is ok. Do not keep beating – overworks batter = cupcakes not as soft!
Fill pan: Divide the batter between the 12 cupcake liners – it should fill 3/4 of the way, but it depends on the size of the cupcake liners you use.
Bake for 20 minutes or until a skewer inserted into the centre of the middle cupcake comes out clean.
Cool: Immediately remove cupcakes onto a wire rack. Cool completely before frosting with cream cheese frosting.
FROSTING:
Cream butter: Place butter in a bowl and beat for 1 minute until it's smooth and starts to become paler in colour – speed 6 on stand mixer, speed 9 for electric beater.
Cream cream cheese: Add cream cheese then beat for a further 1 minute on the same speed until smooth.
Add icing sugar: Add icing sugar in 4 batches, beating in between until incorporated, starting on speed 1 so you don't get a dust storm in your face!
Beat until fluffy: Add vanilla and salt, then beat for 2 minutes until fluffy – speed 6 with stand mixer, speed 9 with electric beater. It should be creamy but still hold its shape in a peak (see video). If it's too sloppy, place in fridge for 30 minutes, then beat again.
Pipe: Transfer into piping bag with desired piping tip. Pipe onto cupcakes – makes enough to generously frost 12 cupcakes as pictured in post.