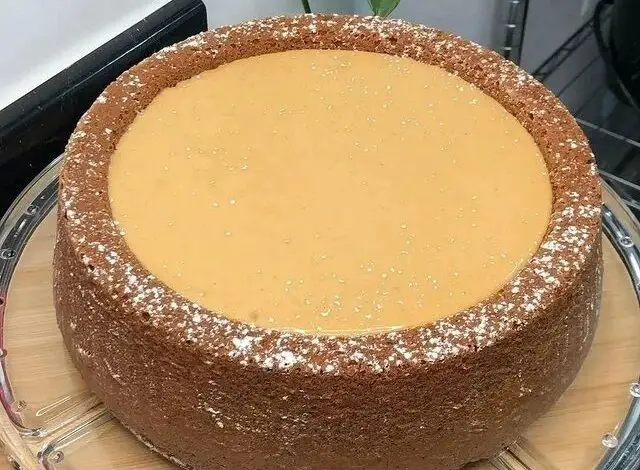 Ingredients
4 eggs
2 cups (440g) caster sugar
2 teaspoons vanilla extract
1 cup (150g) self-raising flour
3/4 cup (110g) plain flour
1/4 cup (35g) cornflour
1 cup (250ml) milk
100 grams butter
1/3 cup (75g) caster sugar, extra
1 teaspoon ground cinnamon
40 grams butter, extra, melted
300 ml thickened cream
450 grams dulce de leche (see tip)
Ganache
1/2 cup (125ml) pouring cream
200 grams dark chocolate, chopped finely
Method
1.Preheat oven to 160°C (140°C fan-forced). Grease three deep 20cm round cake pans; line bases and sides with baking paper.
2.Beat eggs in a large bowl with an electric mixer for 30 seconds or until foamy. Add sugar; beat for 5 minutes or until pale and thick. Beat in extract. Transfer mixture to a large bowl; gently fold in triple-sifted flours.
3.Heat the milk and butter in a small saucepan over low heat until the butter melts. Whisk 1 cup of the cake batter into milk mixture until smooth. Fold milk mixture into remaining cake batter. Divide mixture evenly among pans.
4.Bake cakes for 35 minutes or until golden brown and cakes spring back when pressed lightly in the centre with your finger.
5.Meanwhile, combine extra sugar and the cinnamon in a small bowl; sprinkle half on a large rimmed plate. Sprinkle three sheets of baking paper evenly with remaining cinnamon sugar.
6.Turn hot cakes onto cinnamon-sugared paper; cool for 10 minutes. Brush sides of warm cakes with extra melted butter; roll in remaining cinnamon sugar on plate to coat sides. Sprinkle any leftover cinnamon sugar over top of cakes. Cool cakes on wire racks.
Ganache
1.Heat cream in a small saucepan until almost boiling. Add chocolate; remove from heat. Stand for 2 minutes. Stir until melted and mixture is smooth. Cool for 20 minutes or until mixture has thickened.
2.Beat cream in a small bowl with an electric mixer until firm peaks form. Place one cake layer on a cake plate, sugared-side up. Spread with half the dulce de leche, then half the cream. Repeat layers, finishing with cake. Spread Ganache over top of cake, allowing it to drip slightly down the side.