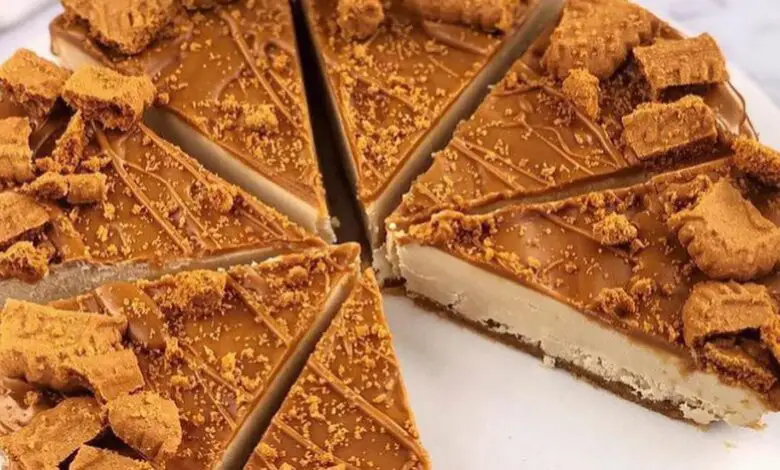 BASE:
▪️ 100g almond meal
▪️ 30g maple syrup
▪️ 70g biscoff spread, melted
Creamy filling:
▪️ 170g raw cashews, soaked
▪️ 1 can coconut cream (400ml)
▪️ 70g maple syrup
▪️ 30g biscoff spread
Topping:
▪️Extra biscoff, melted
▪️Biscoff biscuits
1️⃣ In a bowl, combine the base ingredients and mix until sticky. Add a little water if needed and press into a cake pan lined with baking paper. It helps to add a second layer of paper on top and press it down with a heavy glass. Place in the freezer while you prepare the next step.
2️⃣ In a blender, combine the ingredients for the filling. Blend until creamy & smooth. Pour this on top of the base layer and return to the freezer to set. I like to leave it overnight for best results – I would recommend 4 hours minimum.
3️⃣ Once the cheesecake is set, add the toppings. I melt the biscoff and pour it over the cake, spread it over the cake with the back of a spoon and sprinkle with crushed biscoff biscuits.
Notes:
▪️ I soaked my cashews in hot water for about 4 hours, sometimes I speed soak in boiling water for 1 hour but the longer the better.
▪️ I use a can of coconut milk but I scoop out the thick creamy part from the top and I try to use minimal liquid. The filling mixture should be very thick but pourable.
▪️ Store in a container in the fridge for up to
4 days or in the freezer for longer. I store them in the freezer and let it thaw at room temperature for about 30 mins so it softens before serving.
▪️ I used a round 21.5cm x 21.5cm tin