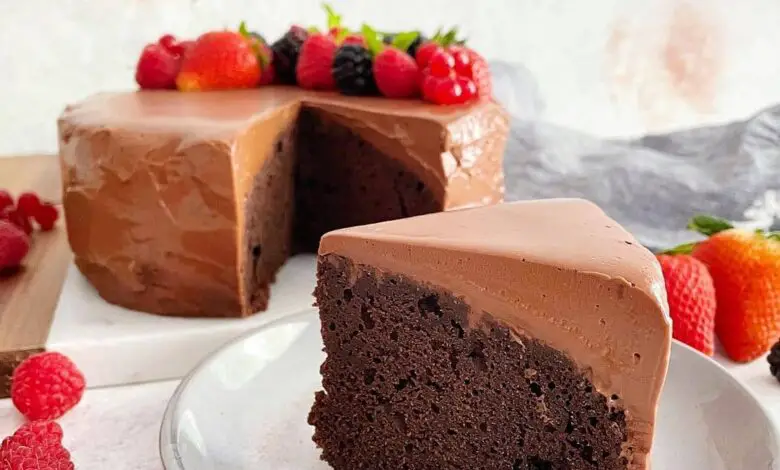 Ingredients for the cake:
⭐️1 cup coconut milk.
⭐️2 cups flour.
⭐️1/2 cup applesauce.
⭐️3/4 cup sugar (1 cup if using coconut sugar)
⭐️1/3 cup cacao powder.
⭐️1 Tbsp apple cider.
⭐️ 1 Tbsp vanilla extract.
⭐️1/2 cup oil or vegan margarine.
⭐️1 Tbsp baking powder.
⭐️pinch of salt.
Ingredients for frosting👇🏻
⭐️1 can thick coconut cream.
⭐️200 grams dark chocolate.
⭐️1/4 cup powdered sugar (optional).
Method:
⭐️In 2 separate bowls, mix the dry and wet ingredients.
⭐️Mix the dry ingredients into the wet and mix well with an electric mixer.
⭐️Line a round cake tray with paper and grease with oil.
Pour the cake batter into the cake tray and bake in a preheated oven for 45-60 mins at 180C. After about 40 mins keep checking the cake to see if it's done. You can do this by inserting a knife, if it comes out clean, you don't need to bake it more.
While your cake is baking, start making the frosting. Place a pan on medium heat and pour the coconut cream into it, chop your chocolate into small pieces and mix into the coconut cream. Stir well until all the chocolate pieces have melted.
At this point you can taste the frosting and check if it needs the additional sugar. This depends on the type of chocolate you use. I used dark chocolate.
Allow the frosting to completely cool, as it cools it will get thicker.
Pour the frosting over the cooked and completely cooled cake while the cake is still in the tray.
Place the frosted cake in the fridge for a couple of hours or overnight for the frosting to completely set.
You can cut into slices, take a pic, post it on your page and enjoy!