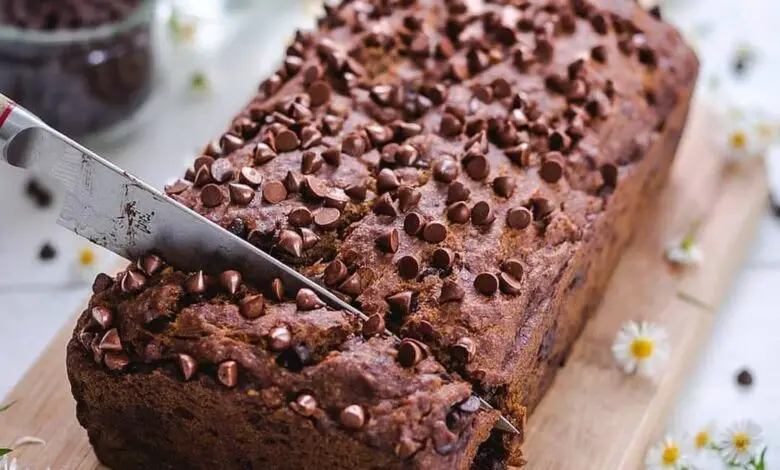 Ingredients
2 tbsp ground chia (or ground flax)
6 tbsp water
1/2 cup large flake oats
1 1/2 tsp baking soda
3/4 tsp sea salt , finely ground
1 tsp ground cinnamon
1 cup all purpose gluten-free flour
1/4 cup coconut oil
1 cup coconut sugar
1/3 cup unsweetened coconut yogurt (or unsweetened soy yogurt)
1 tsp vanilla extract
1 cup mashed banana (I used 3 bananas)
3/4 cups semi-sweet dark chocolate chips
Method
1. Make chia egg by combining ground chia and water in a bowl. Whisk with a fork and let sit for 10 minutes.
2. Sift gluten-free flour into large mixing bowl with baking soda, salt, and cinnamon. In a blender or food processor pulse oats until powder form and add to bowl. Mix dry ingredients to combine.
3. In a saucepan melt coconut oil on medium high heat. Remove and pour into large mixing bowl with coconut sugar, coconut yogurt, vanilla and chia egg.
Whisk together to combine. Add wet ingredients to dry and mix until just combined.
Then add mashed banana and mix again. Pour in chocolate chips and gently fold into batter.
4. Preheat oven to 180C/350F. Rub a rectangular baking pan (I used a 9×5 inch pan) with coconut oil along the base and up the sides, (this will allow for easier removal after cooking).
Pour batter into pan and bake in oven for 45-55 minutes, or until golden and a toothpick inserted in the middle comes out clean. (If the top of the banana bread is getting too brown you can cover it with tinfoil.
But I didn't need to do this.). Let cool for 15-20 minutes before removing from pan.