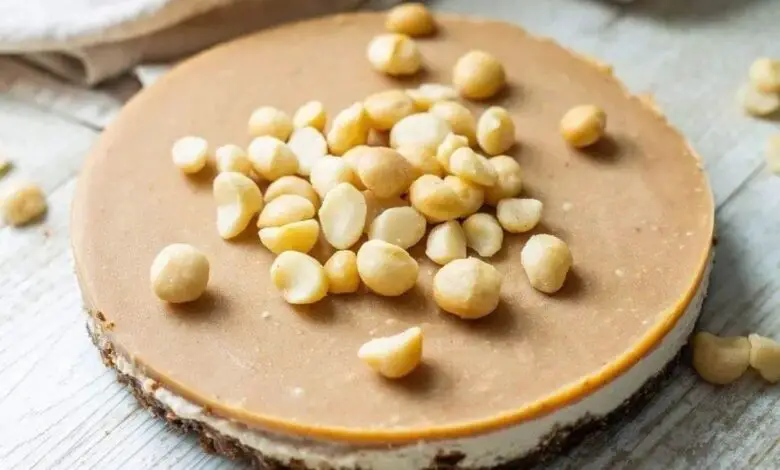 BASE: ⤵⤵⤵⤵⤵
½ cup macadamia nuts :
½ cup walnuts
½ cup pitted dates
½ cup dried figs (or sub more dates)
FILLING:
1½ cups cashews (soaked for 3-4 hours or overnight)
1 400g can coconut cream
Juice 1 lemon
drop vanilla extract
⅓ cup maple syrup
1 TBSP coconut oil
CARAMEL TOPPING:
½ cup macadamia :   butter (or sub cashew butter)
⅛ cup coconut oil
6 TBSP maple syrup
drop vanilla
pinch salt
Macadamia Nusskern roh bio Premium 6x100g
Method⤵⤵⤵⤵⤵⤵
1 walnuts in a food processor. Add dates and figs and process again until sticky. Transfer mixture to a square or round baking tin (depending on the shape you want) and press down evenly to the base. Set aside.
2 For the filling: Add all filling ingredients into a high-speed blender and blend until smooth and creamy. Pour over base and place in the freezer to set for about an hour before pouring on the caramel layer
3 For the caramel, ensure the coconut oil is melted ( I use a microwave if needed) add all ingredients to a bowl and mix until as smooth as possible.
Pour over the filling and smooth. Place back in the freezer to set well for at least 3-4 hours or overnight.
Allow to thaw slightly, slice, and enjoy. This is a very soft cake so its best to slice it before it goes too soft.