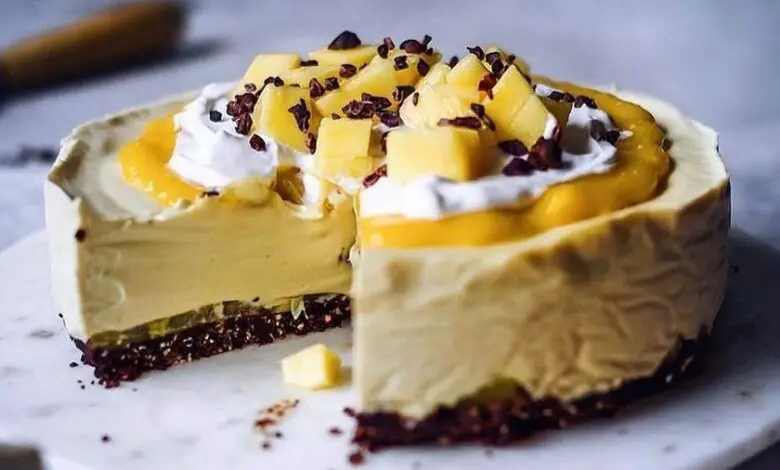 Ingredient
1 cup pecans (I used activated).
1/2 cup soft dates, pitted.
1/4 cup cacao powder.
Pinch salt.
1 Tbsp desiccated coconut
1. Add all ingredients to a high-speed food processor and pulse to form a sticky dough.
2. Press base into a silicone cake mould, or lined spring form. Set aside.
Filling.
2 cups raw cashews, soaked 2-4 hours in filtered water.
1 cup mango flesh.
1/3 cup pure maple syrup.
1/3 cup almond milk.
2 Tbsp finely grated lemon zest.
1/4 cup lemon juice.
1/3 cup coconut oil (melted if you have a less-powerful blender.
1. Drain cashews, and rise well. Transfer to a high-speed blender with all other ingredients. Blitz on high until very smooth (1-2 mins). 2. Pour over base, bang to flatten the surface and set in the freezer a minimum of 4 hours.
To serve.
Remove from freezer and cake mould the night before, and place in the fridge overnight to allow to defrost slowly. The next day, top with puréed mango (simply blend the flesh from 1 mango ), coconut yoghurt, extra topped mango and cacao nibs. Enjoy!!