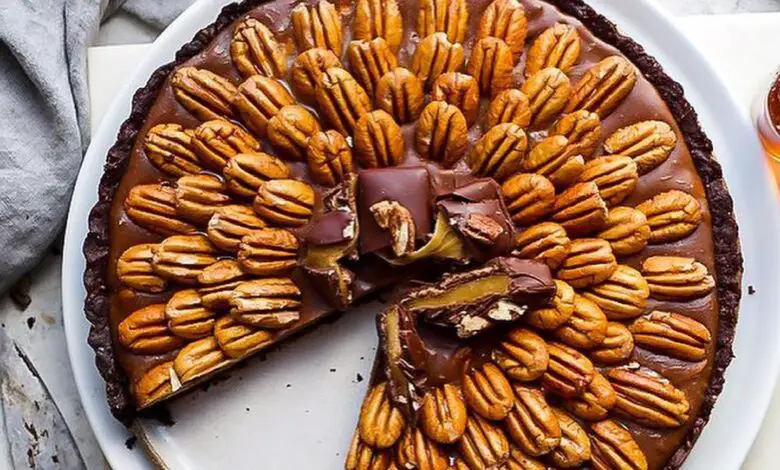 Ingredients
Crust
135g (1 ¼ cups) raw or toasted pecans
12g (2 Tbsp coconut flour) coconut flour
¼ tsp salt
35g (1/3 cup) cacao powder
220g (approx 10) fresh (Medjool) dates, pitted
Chocolate tahini caramel filling
210g (¾ cup) hulled tahini
200g (2/3 cup) pure maple syrup
175g (2/3 cup) coconut oil
2 tsp vanilla extract or paste
1 tsp fine salt
1 Tbsp white miso paste (optional)
110g (½ cup) coconut sugar
½ block loco love chocolate, melted
¾ cup pecans, chopped roughly
Extra pecans to decorate the top
Method
1. Begin by making the crust. You will need a tart tin- ours was 20cm diameter. Lightly grease,
line the base and set aside.
2. Add the pecans, coconut flour, salt and cacao to a high-speed food processor and process
until a fine crumb forms.
This will take around 1 minute. With the food processor running
add the dates one at a time, then process a further 1 minute. Test that the crust has enough
dates- the mixture should be moist and easily rolled into a ball without being too sticky.
3. Press the base into the tart tin, trying your best to make it even on the base and up the sides.
This tart is rustic so don't stress if it doesn't look perfect- just ensure you press it all down
firmly.
Set in the fridge for 30 minutes then remove from base and set on a plate. Keep the
base in the fridge while you make the filling.
4. Add all the ingredients besides the chocolate and pecans to a medium, heavy based
saucepan. Heat over small heat whisking the entire time- you want to heat it for 4-6 minutes
or until hot and uniform, but not boiling. Add the melted chocolate and chopped pecans and
mix through.
5. Cool for 5 minutes before pouring into the base. Use a spoon to spread around, and then
finish but arranging pecans on top as desired. Set in the fridge for 1+ hours.