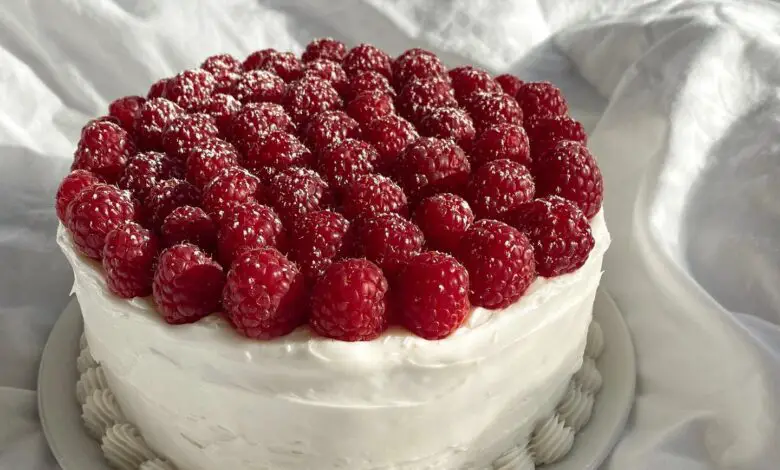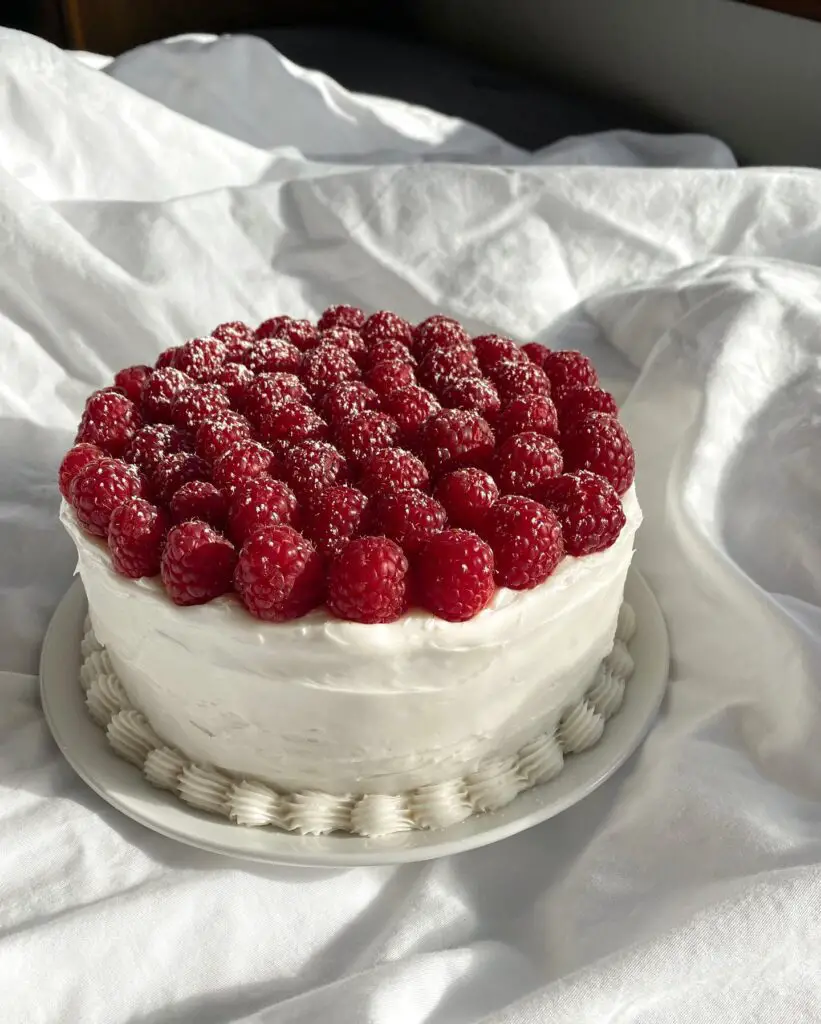 Ingredients for the cake:
1/2 cup unsalted butter, softened
1 cup of granulated sugar
2 tsp vanilla extract
3 egg whites
1 1/2 cups +2 tbs flour
2 tsp baking powder
1/2 tsp salt
1 1/4 cup whole milk
Frosting and toppings:
16 oz container of creamy white frosting
6 oz container of fresh raspberries (about 1 cup)
2 tbs powdered sugar
Directions:

1. Preheat the oven to 350 degrees Fahrenheit. Line two 6.5 inch cake pans with parchment paper and set aside.
2. Using a hand mixer, cream together the butter, sugar and vanilla extract until light and fluffy. About 2-3 minutes. Add in the egg whites and mix until nice and smooth.
3. Sift together the flour, baking powder and salt in a bowl. Add about 1/2 of the dry ingredients into the wet and mix, leaving a few dry lumps. Add about 1/2 of the whole milk and mix until smooth. Repeat with the rest of the dry ingredients and milk.
4. Lightly grease the cake pans with cooking spray and pour the batter evenly between the pans. Bake in the oven for 30-35 minutes or until a toothpick inserted comes out clean. Let the cakes cool completely before removing from the tins.
Assembly:
1. Carefully cut the rounded tops off the cakes to make a flat surface for toppings. Place one cake onto a small plate and cover it with a layer of white frosting. Top it with the other cake, cut side down for a nice, clean look.
2. Using an offset spatula, cover the cake with the rest of the white frosting. You can also buy another container of frosting to pipe a border around the cake.
3. Top the cake with fresh raspberries, starting on the outside and working your way to the center. Sprinkle the cake with powdered sugar and enjoy!!!