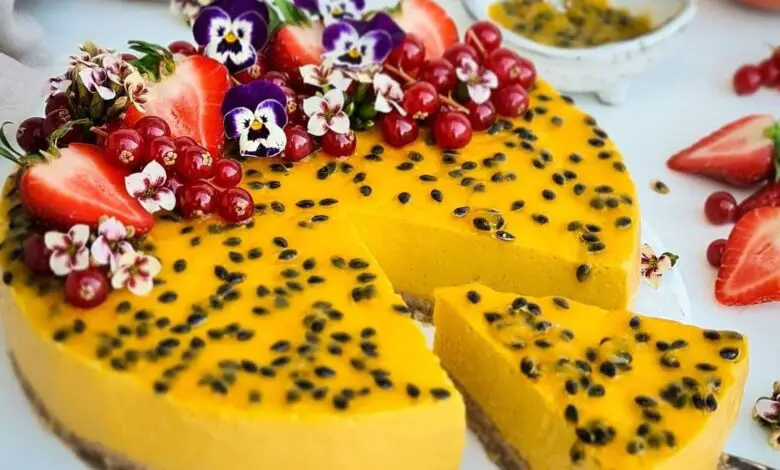 ⁠𝗜𝗡𝗚𝗥𝗘𝗗𝗜𝗘𝗡𝗧𝗦⁠
Crust:⁠
60g fresh dates, pitted⁠
50g dessicated coconut⁠
50g buckwheat groats⁠
50g walnuts⁠
1tbsp coconut oil, melted⁠
1/2tsp salt⁠
Mango layer:⁠
400g mango chunks⁠
300ml full fat coconut milk⁠
60g maple syrup⁠
1tbsp cornstarch, dissolved in 2 tbsp water⁠
1tsp agar-agar powder⁠
100g thick, greek style plant yoghurt⁠
Passionfruit layer:⁠
4 passionfruits⁠
1tsp cornstarch, dissolved in 2tsp water⁠
𝗠𝗘𝗧𝗛𝗢𝗗

⁠
Crust:⁠
Line the bottom of a 18cm cake tin with baking paper.
Add all ingredients for the crust to a food processor and process until combined.
Firmly press the mixture onto the bottom of the lined cake tin. Refrigerate.⁠
Mango layer:⁠
Add mango chunks, coconut milk, sweetener and dissolved cornstarch to a blender and blend until smooth.
Pour the mixture over in a saucepan and cook for 2-3mins, whisking continuously.
Add agar-agar powder and bring mixture to a boil, then turn off the heat.
Add yoghurt and whisk until smooth.
Let cool off a bit before you pour the mixture over the crust. Refrigerate for 4+ hours.⁠
Passionfruit layer:⁠
Add passionfruit pulp and dissolved cornstarch to a small saucepan.
Cook for about 1 minute to thicken, whisking continuously. When your cake is set, top your cake with chilled passionfruit pulp and serve!⁠