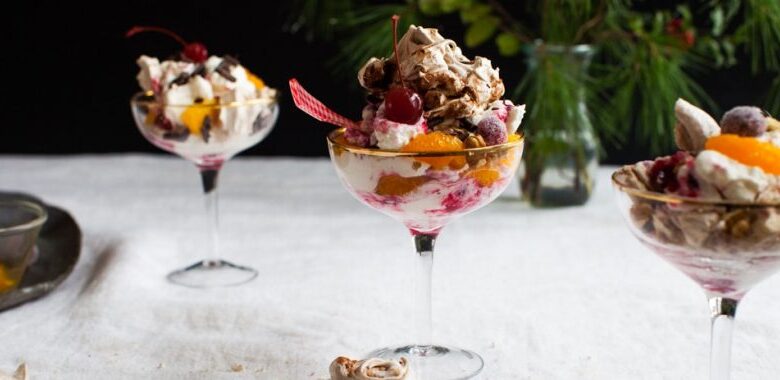 Simple yet elegant, a Cranberry Orange Eton Mess is an easy, do-ahead holiday dessert.
I've always loved the combination of soft whipped cream, crunchy meringues and winter fruit. Who doesn't?
In the past I've paired those ingredients in an elegant cranberry curd tart. And I've married the same in my Mini Citrus Pavlova. Both of those desserts are wonderful, and have been my Christmas sweets for years now.
Today's recipe for Cranberry Orange Eton Mess simplifies this trio even more – and delivers all the favourite flavours. With everything that this year has been, we need easy recipes more than ever.
Flavour Combinations
Eton Mess is a British creation consisting, in its most basic form, of cream, berries and meringue. Nigella Lawson states "…there is no variation of this pudding I don't like…" and I take that as permission to play.
Take this base recipe I'm providing today, and make it your own. Here are a few ideas to get you started.
Cranberry Orange – simple and classic. I like to round it out with chopped walnuts.
Chocolate Cherry – if you've been saving a jar of home canned cherries or sour cherry jam, now is the time pop the lid. Pair the cream & cherries with chopped chocolate or chocolate curls. Add brownies for the true Black Forest dessert experience.
It's A Party – Go crazy and add all the Eton Mess ingredients listed below! From citrus to cranberry, chocolate to nuts, they all work together. Trust me, I've done the research.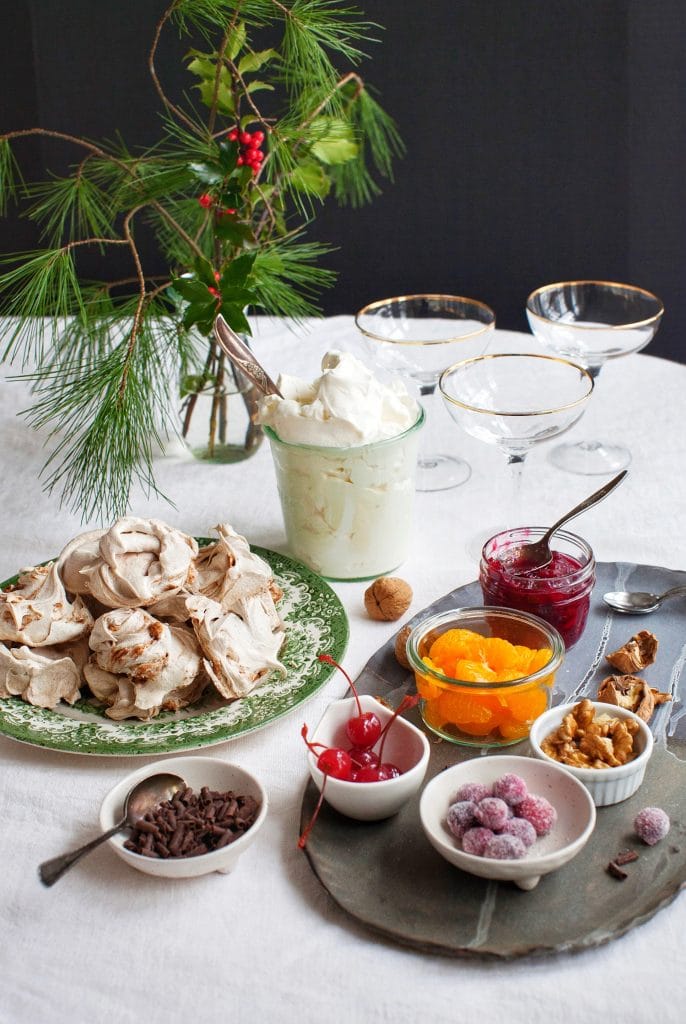 Cranberry Orange Eton Mess Ingredients:
So here's what I'm suggesting: Prep the ingredients below and let your family and guests assemble their own Cranberry Orange Eton Mess. What could be more fun!
Chocolate Swirl Meringue Cookies. Could also use plain meringues or store-bought meringue kisses/nests.
Cranberry Orange Sauce – Thats right! A homemade cranberry sauce. You could also use a tangy jam such as raspberry or blackberry. Or use a basic fruit coulis like raspberry or strawberry, made from frozen fruit.
Winter fruits. Orange segments are my favourite. I use leftovers from this citrus salad. I also keep canned mandarines in the pantry for this recipe. Pomegranate would be delicious. Frozen summer berries, thawed and tossed with a little sugar work well and are traditional for Eton Mess.
Chocolate curls or chopped chocolate – Not essential but they definitely make the dessert more special.
Toasted walnuts – or your favourite nuts like pistachios, pecan or hazelnuts.
Cherries – Maraschino Cherries or canned cherries
Sugared cranberries – now is the time to serve those pretty edible garnishes we learned to make.
Orange Cardamom Curd – Take this dessert over the top with a creamy citrus curd. Swirl it into the whopped cream or dollop a bit on top.
Cranberry Orange Eton Mess Do-Ahead
Most of these ingredients will keep for a few weeks, meaning you can prep now for New Year's Eve, should you choose to do so.
Meringues: Keep them airtight and frozen for up to one month.
Cranberry Sauce/Compote: refrigerate for up to one month
Citrus: Can be segmented or chopped up to 2 days in advance.
Toasted Nuts/Chocolate Curls: Can be kept in airtight jars at room temperature for a week in advance.
Cranberry Orange Eton Mess
Whipped cream & winter fruits, crunchy meringues and tangy cranberries make up this easy and festive dessert.
Servings: 4 people
Calories: 645kcal
Ingredients
2

cups

whipping cream

35%

1/2

teaspoon

pure vanilla extract

2

tablespoons

powdered sugar

2

medium

oranges

or citrus of your choice

1/2

cup

cranberry sauce

homemade

6

medium

meringues

or 12 mini

1/4

cup

chocolate curls

or shavings

1/4

cup

chopped walnuts

sugared cranberries or cherries

optional
Instructions
Whip the cream to soft peaks. Add the vanilla and sugar, and beat until stiff. Chill. Peel and segment the oranges, or cut into bite-sized pieces.

To Serve: Swirl the whipped cream and the cranberry sauce together. Spread a few spoonfuls in the bottoms of 4 dessert bowls or coupe glasses. Crumble half the meringues on top.

Divide the oranges between the glasses. Top with more whipped cream, finishing it off. Crumble more meringues on top.

Garnish the Eton Mess with chocolate curls, walnuts and sugared cranberries. Serve immediately.
Notes
This is a great do-ahead recipe, as long as the components are kept separate. See the post for details on prepping in advance and storing the ingredients.
Nutrition
Calories: 645kcal | Carbohydrates: 37g | Protein: 5g | Fat: 55g | Saturated Fat: 31g | Polyunsaturated Fat: 5g | Monounsaturated Fat: 15g | Trans Fat: 1g | Cholesterol: 164mg | Sodium: 57mg | Potassium: 334mg | Fiber: 4g | Sugar: 29g | Vitamin A: 1920IU | Vitamin C: 36mg | Calcium: 121mg | Iron: 1mg