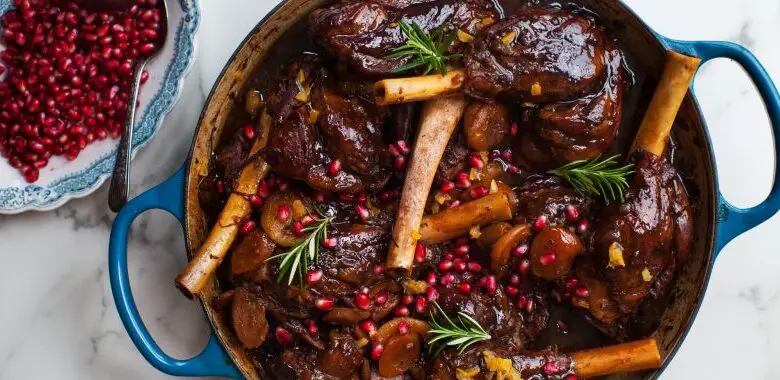 Both cozy winter comfort food and festive celebratory feast, these simple braised lamb shanks make for a sumptuous holiday meal.
Last year I threw my back out on Christmas Eve eve. I'll spare you the woeful details of how I was couch-ridden during the busiest time of year, and instead fast-forward to the highlight reel: Danny's braised lamb shanks.
We had invited guests for dinner on the 25th and I couldn't stand up, let alone cook. Danny wrapped on an apron, opened Nigella's At My Table, and filled a Le Creuset braiser with lamb, dates and pomegranate molasses.
The resulting dish swept everyone off their feet, back pain or not, and filled the house with an intoxicating aroma. One of my kids mashed potatoes to accompany the lamb, my sister brought a salad, and we feasted together.
Braised Lamb Shanks with Winter Fruits
I'm so excited to bring you my variation on Nigella Lawson's recipe for your holiday feasts! I've adapted a few ingredients to make it a 'use-what-you-have' dish – my favourite way to cook.
If at a glance this meal seem overly complicated, let me assure you that it's quite straightforward. My engineer of a husband pulled it off expertly for his first ever Christmas Dinner.
As long as you have a large Dutch oven or cast iron pot with a tight fitting lid, you'll be good. It's essential for even heat during the braise.
Before we get to the recipe, you should know that this lamb is a great do-ahead meal. We make ours the day before and reheat it for dinner. It's even better on the second day, and makes for a more relaxed day of entertaining.
Braised Lamb Ingredients
Here's what you need to prepare this special dish.
Local lamb shanks, ideally fresh. The recipe calls for 6 and can serve up to 12 people; you don't have to give everyone a whole shank – it's a lot of meat!
Dried Winter Fruits – dates, apricots and figs. You can use any combination of all three. Dried cherries would be delicious as well.
Root Vegetables. I adore parsnips and so use both carrots and parsnips, along with red onion. Use what you have.
Spices. I'll say it again, use the best you can find. Toast them slightly and them grind them for maximum flavour. I use a small coffee grinder for spices.
Liquid: Red wine, nothing fancy. You can also use beef, lamb or chicken stock.
Specialty Ingredients. Pomegranate Molasses is essential. Preserved Lemon is nice to have, but a the zest and juice of a fresh lemon would also do the trick.
The Best Side Dishes for Braised Lamb
I think this braised lamb, with its Middle Eastern flavours of date and pomegranate, would traditionally be served with couscous, but my kids love mashed potatoes best. Slightly bitter Brussels sprouts contrast nicely with the sweet lamb and balances out the creamy potatoes. It's hard to beat this trio.
Also delicious with the lamb would be a buttery polenta, orzo or even a saffron risotto.
Our Christmas Dinner Menu:
Also a great option is this Preserved Lemon Quinoa with Shaved Brussels and Toasted Walnuts. Nutty and earthy, it would be a great pairing with the rich braise. Maybe with a side of Roasted Squash with Yogurt and Spiced Pistachios to round it out.
Instructions for Freezing
All braised meats can successfully be frozen and simply reheated for dinner. For lamb shanks, I'd recommend stripping the meat off of bones first, and freezing the meat in the rich fruity sauce.
I also take it one more step, and simmer those lovely big bones into a rich stock. It's nice to have more broth to round out the sauce.
Read on for the recipe. Enjoy!
Braised Lamb Shanks with Winter Fruits
Both cozy winter comfort food and festive celebratory feast, these rich braised lamb shanks make for a sumptuous holiday meal.
Servings: 6 people
Calories: 432kcal
Ingredients
2

teaspoons

ground cumin

1

teaspoon

ground cinnamon

1

teaspoon

ground coriander

1/2

teaspoon

ground allspice

2

teaspoons

freshly ground black pepper

2

teaspoons

fine sea salt

6

lamb shanks

2

Tablespoons

extra virgin olive oil

3

cups

chopped red onion

about 4 medium or 2 large

2

medium

carrots

or parsnips, peeled and sliced

4

cloves

garlic

peeled and smashed

2

teaspoons

finely chopped rosemary

1

cup

mixed dried fruit

dates, apricots, figs, cherries or prunes

3

Tablespoons

pomegranate molasses

1 1/4

cups

fruity red wine

2

Tablespoons

finely chopped preserved lemon

1

pomegranate

seeded, for garnish
Instructions
In a small jar or bowl, combine all the spices, salt and pepper. I like to do this in advance, take my time, and ensure each one is properly toasted, ground and measured.

Set a wide, heavy-bottomed Dutch/French oven (see Notes) over medium heat and get it preheating. Make sure it has a tight fitting lid. Place the lamb shanks on a large tray and drizzle the olive oil over them. Use your hands to rub the oil all over the shanks.

Preheat the oven to 300°F. Add half the lamb to the Dutch oven and sear over medium heat, turning often to brown lightly on all sides. About 5 minutes. Return the shanks to the tray and repeat with the remaining lamb, searing until golden. You should finish with 6 seared shanks resting on the tray.

Carefully tumble all the chopped onions into the Dutch oven and cook for 2-3 minutes. Add the sliced parsnip or carrots, along with the garlic cloves. Cook, stirring well, for 2 minutes, or until slightly soft.

Sprinkle in the premixed spices and rosemary and stir to combine. Tumble in the mixed dried fruit and drizzle the molasses over everything. Pour in the wine or stock and scrape any bits of food off the bottom of the Dutch oven. Stir everything together well.

Add the lamb shanks to the Dutch oven, nestling them in tightly together, meaty side down, in a single layer. Cut a piece of parchment paper to fit snugly in the pan. Tuck it in around the meat, then cover with the lid. Place in the oven.

Slowly braise the lamb for a total of 3 hours, checking after 2 1/2 hours and turning the shanks once. When they are done the meat will be tender and almost falling off the bone.

You can serve the shanks in the Dutch oven or transfer to a serving bowl. Stir half of the preserved lemon into the sauce and spoon the sauce over the shanks. Garnish with preserved lemon and pomegranate seeds and serve hot.
Notes
Serves 6 as a huge feast. Can serve up to 12 with a few sides as part of a multi-course meal.
The success of this simple recipe is owed largely to the Dutch or French oven. It keeps the dish airtight, and the lamb braises in a nice even heat. This makes for a relatively quick braise with meat that falls off the bone.
Nutrition
Calories: 432kcal | Carbohydrates: 30g | Protein: 41g | Fat: 12g | Saturated Fat: 3g | Polyunsaturated Fat: 1g | Monounsaturated Fat: 6g | Cholesterol: 127mg | Sodium: 944mg | Potassium: 876mg | Fiber: 5g | Sugar: 18g | Vitamin A: 3415IU | Vitamin C: 13mg | Calcium: 82mg | Iron: 5mg